Athlete of the Week: Ashlyn Ramos '22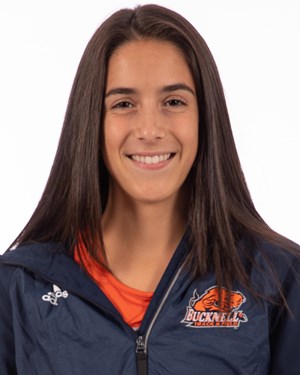 Senior Cross Country star Ashlyn Ramos has broken yet again another record, as she is the first University runner to make the NCAA Championship more than once. Ramos was the Patriot League individual champion last spring, and has had the best time on the team in four meets this fall season. On Oct. 31, she placed second in the Patriot League Championship which helped the Bison finish fourth in the meet. In the All-Region meet, this senior earned All-Region status, finishing 10th out of 193 competitors helping the Bison place 14th in the meet. While she didn't automatically qualify for the NCAA Championships as she did last spring, Ramos was able to secure an at-large bid for the competition.
Alongside her first place Patriot League finish in spring 2021, her Cross Country accomplishments in prior seasons include All-Patriot League First Team, sixth place at the ECAC Championships and a 141st place finish in the NCAA Championship meet.
"I feel so lucky to be able to line up next to such a great group of girls and especially seniors. Crossing the line and turning around and hugging all my teammates as they crossed was the best feeling in the world. It was a big confidence boost to qualify for nationals the more conventional way this year and I am really looking forward to hopefully improving on my placing from last year and being a little bit more competitive now that I have some experience," Ramos said.
Ashlyn will compete in the NCAA Championships on Nov. 20 in Tallahassee, Florida. She will look to best Theresa Dennis's '03 Bison student-athlete record at the NCAA championships of 73rd place set in 2001. 
(Visited 137 times, 1 visits today)