Athlete of the Week: Carly Krsul '23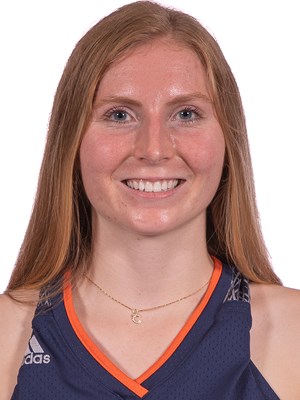 The Bison women's basketball team is off to a great start with a 4-2 record. This past weekend the team went 2-0 in the TD Bank Classic tournament, defeating the University of North Dakota 64-59 and the University of Vermont 68-53. Forward Carly Krsul '23 had an outstanding weekend, scoring 16 points against the Fighting Hawks and 10 points against the Catamounts. For her efforts in the matches, she was named to the All-Tournament team. 
The junior has been a contributing member of the basketball team since her rookie season. She appeared in all 10 games her sophomore season, tying for first in the team lead in blocks, and ranking third in rebounds. Thus far in this 2021-22 campaign, Krsul has played in all the contests and has scored 60 points for the Orange and Blue. 
Krsul speaks on her own successes and her team successes. "The season has been really great thus far, as a young team there has been an expected learning curve. However, we are growing as a team every game and this past season really exhibited how tough we can be. Personally I am filling a much different role than I have in past seasons here. I am playing more of a true big position which has been a change, but has been fun," Krsul said. 
Krsul is set to lead her team again with her elite-level skills in games against Saint Francis University on Dec. 1, University of Pennsylvania on Dec. 3, and Saint Bonaventure on Dec. 6. These games will be great learning opportunities. "As a team right now we are just really trying to play better together."
Career Stats: 
43 games played
195 points 
137 rebounds
31 assists 
33 blocks
14 steals 
(Visited 176 times, 1 visits today)