Women's Lacrosse Wins Big over First-Place Army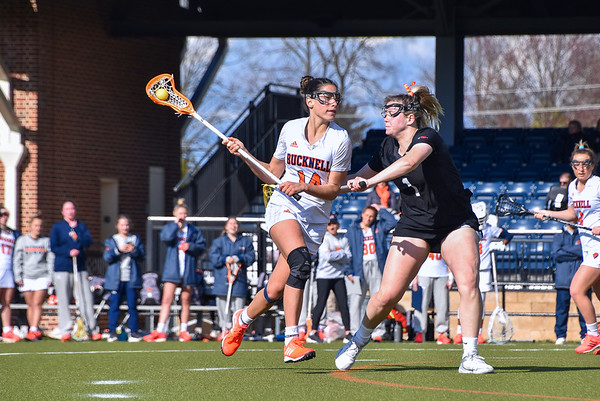 The Orange and Blue secured a huge win over first-place Army West-Point at Graham Field on Saturday afternoon. The Black Knights entered Saturday's game with a perfect 5-0 record in league play. The Bison went on an 8-1 run in the second-half, never trailing in an 18-12 game. The Orange and Blue improve to 6-6 overall and 3-2 within Patriot League play.
A strong freshman effort from Tatumn Kohlbrenner '24 and Allie Boyce '25, each with four goals, propelled the Bison past the Black Knights. Taylor Kopan '24 and Emma Cashwell '22 each added three to the 18-12 victory. Kopan started off the scoring effort by scoring the Orange and Blue's first three goals. The Bison scored a total of 18 goals on 31 shots on the day. Boyce also added two assists, totaling a six point effort. 
The Black Knights entered the game averaging a high of 15.8 goals per game. This average is even higher in Patriot League play at 19.0 goals per game. The Orange and Blue limited the Black Knights to just 12 goals in this game.
The draw control battle leaned in favor of the Bison thanks to eight from Cashwell. This gained the Orange and Blue a lot of time in possession. Caitlin Tucker '22 made nine saves on the day after a return from injury. Abby Neff '22 and Eva Macris '22 combined for five forced turnovers. 
The Bison defensive effort was strong in the 18-12 victory. The Patriot League leading goal scorer Jolie Riedell did not tally a point against the Bison. She entered the day with 41 goals on the season, but was held to none in the Bison win.
"I am really proud of the team today and the way we all played together. We gave a complete effort from the starting whistle to the final whistle. This was a huge win for us and gives us a lot of momentum going into American next weekend," Captain Ella Payer '23 said.
The Bison have just four games left in regular season play, three of which are on the road. The Orange and Blue travel to American for a 1 p.m. game on Saturday.
(Visited 64 times, 1 visits today)