Mondragon Bookstore: an oasis of used and unique books
Looking for a book that didn't gain its popularity from Tik Tok or mainstream trends? Mondragon Books has been supplying the Lewisburg community with atypical books not found at your local Barnes and Noble.
The bookstore opened its doors for the first time in 2009 at the previous location, 111 Market Street. The original store was founded, and for many years operated, by Charles Sackrey, a retired Bucknell economics professor. His decision to name the store Mondragon Books came from inspiration of the Mondragon Corporation located in the Basque Region of Spain.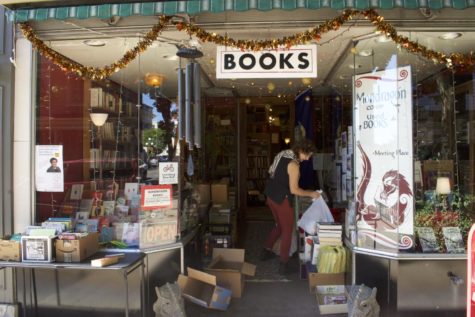 Sarajane Snyder got involved with the store in late 2016 and now operates it herself. The move from 111 to 430 Market Street happened almost two years ago exactly in October of 2020. Now in its location at the center of downtown life in Lewisburg they have been able to accumulate more customers according to Snyder.
The store is a shared space with the Open Door Gallery and is unlike many other bookstores. A pillar covered with real tree bark and added branches and leaves sits in the center of the store as a divider of sorts between the gallery and books. Multiple shelves stand filled with colorful books both aged and new divided by genre and topic. Adding to the many colors of the books are the colorful carpets and couches.
Their mission statement hanging in their store explains that their stock focuses on topics of literary fiction, poetry, social studies, arts, the home and political economy, health, DIY Skills, nature and "other books that foster knowledge and power to the people." Their book annex located on the second floor of Roller Mills Antiques sells books focused on other topics such as history, war, baseball, mystery and more.
Snyder shared many of her intentions for this "feeling" that the bookstore would give off, among other information regarding the store itself. She said that she aimed to create a different atmosphere for people to experience when walking through the store, an aged feeling that she felt people need sometimes.
On the topic of the book annex, she said that the separation also helps with the aura of the store. Throughout all the shelves she said that there was a "diverse representation" of authors, styles and topics. 
All the books in the store connect together well and flow — topics such as the history of war would interrupt that. Pointing out the section on Religion she said how she does not sort by author but rather ideas. With the bottom shelf holding bibles and related books, a shelf above held issues regarding Jesus as a figure, and even further above was a section on Judaism.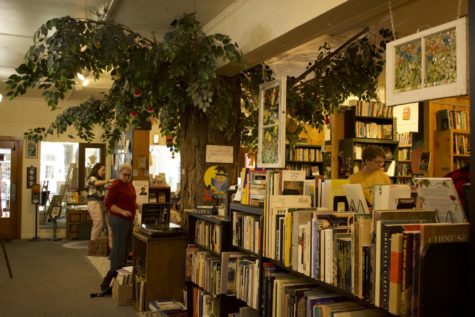 The large majority of books stocked in the store are not recent publications, and titles made popular on social media like TikTok's "BookTok" usually cannot be found on the shelves. Discussing this with Snyder, she said that she was "not anti-bestseller but anti-mainstream." The feeling that the store and books display are not shared by many popular books of the Gen Z generation. This difference is okay and interesting to observe, she said. It will be fascinating to see the evolution of the book as older generations phase out.
Up until about this past year the store was completely stocked with used books secured through donations, yet they now select and order certain new books. Snyder said that many of the new books she orders center around nature and trees. She continued saying that many of the store's customers do not enjoy online shopping or want to avoid it completely. For those people she has given the option to special order books to the store for them.
Asking Snyder about the name of the store and the idea of the Mondragon Cooperative she said that although she was the sole operator for the store and it was not a cooperative by law it had a "co-op attitude." The store functions based on donations of used books and if there is something she would need help with, loyal customers are there to offer their assistance. The store is labeled as a "community-supported" bookstore which upholds cooperative values.
She talked about why people come into the store. Saying that although it might be common for people to go into other stores "looking for something" they could come into Mondragon and "find something." She said how she is fascinated and always curious about what compels people to look at certain books and she is able to observe this among different types of people. Whether it's a title, cover art or author there's always something to discover.
This is something Bucknell students can experience by making the trip downtown. Going in not looking for anything in particular, but maybe finding a book they never knew they needed. The bookstore is open Wednesday through Saturday 11 a.m.–6 p.m., 11 a.m.–4 p.m. Sunday.
(Visited 234 times, 1 visits today)