Bison Field Hockey earns second Patriot League win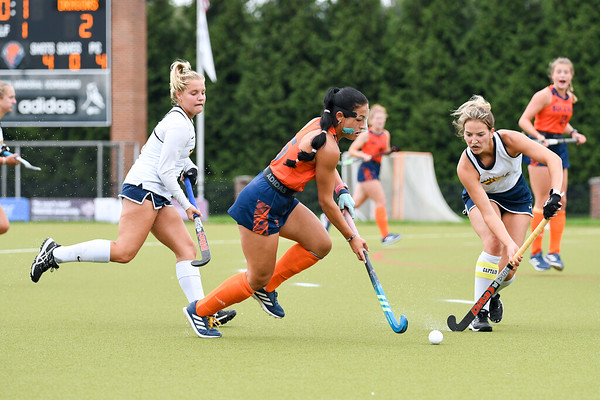 The Bison Field Hockey Team returned home this past weekend after being on the road.
In their Patriot League home-opener, the Orange and Blue were relentless, coming from behind to beat Lafayette on Friday, Sept. 23. The Bison returned to the pitch on Sunday, Sept. 25 to face Drexel in a hard-fought defeat.
The Orange and Blue were fired up for their second Patriot League game of the season, under the lights at Graham Field. The first half did not see much action from either side, but it was in the second half that the Bison picked up.
The Bison earned eight penalty quarters within the first four minutes of the third quarter, getting seven shots off. Unable to capitalize, the Bison remained off the board. Instead, it was the Lafayette Leopards who responded five minutes later, taking the lead 1-0. The Orange and Blue were not ready to give up, however. Four minutes later, the Bison received two more penalty corners and this time Lily Nielson '25 slotted one in the back of the net.
Both teams entered the fourth quarter tied at 1-1. It wasn't until six minutes left that senior Kayla Kisthardt '23 put the game away for the Bison, scoring the game-winner off of another penalty corner. The Orange and Blue held the Leopards off the board for the final minutes, leading to their 2-1 comeback victory.
The Bison were feeling good after their big league win, but the Drexel Dragons were eager for a win themselves. The Orange and Blue's season-high sixteen shot attempts were not enough to outscore the Dragons. Just over six minutes into the game, Drexel capitalized on one of three penalty corner attempts, giving them the early lead.
The Bison continued to attack, but the Dragons found themselves with another penalty corner at the very end of the first quarter, and managed to get in behind the Bison defense, securing a 2-0 lead. Both teams held each other scoreless for the remainder of the half. Entering the third quarter, Drexel earned another three penalty corners, and on the third one, they scored their third goal of the match. This would be the last goal of the game, leaving the Bison with a 3-0 defeat.
In speaking with Hope Davis '25, she said how "it was a great competitive weekend for us…and worked really hard as a team. We are looking forward to preparing for Colgate and Cornell at practice this week."
The Orange and Blue return on the road next weekend, as they are set to face Colgate on Saturday, Oct. 1 at 11 a.m. in Hamilton, N.Y. The team will then travel to Ithaca, N.Y. on Sunday, Oct. 2 for a 2 p.m. match at Cornell. 
(Visited 64 times, 1 visits today)