Athlete of the Week: Abby Gearhart '23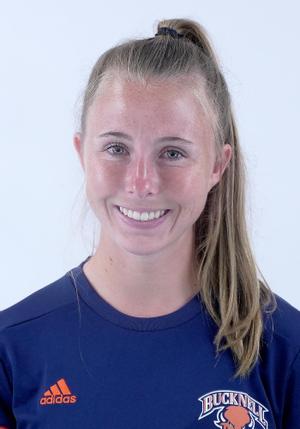 The Bucknell women's soccer team delivered an onslaught of goals in the second half of their game against Holy Cross, including two goals and one assist by senior Abby Gearhart, all in a span of less than five minutes.
The two goals marks Gearhart's second career brace and resulted in her being tied for lead-scorer in the Patriot League with five on the season. The Orange and Blue quickly found themselves ahead in the game and never looked back, winning the game 5-1 and improving to 3-1 in Patriot League. 
"Everything just fell into place," Gearhart said. "Once we got rolling, we knew it was our game. The game started to open up and we didn't even realize we scored four goals in ten minutes until someone said something. It was pretty cool to see and I think everyone did a great job."
The star midfielder's performance not only propelled her team to a victory, but also won her Patriot League Midfielder of the Week for the second week in a row.
When reflecting on the team's performance, Gearhart attributed the second half success to a change in mindset.
"At halftime, we knew we were going to have to shoot from further out in order to create more scoring opportunities. Once we did that, we started generating a lot of opportunities to score and we finished a lot of them which was awesome to see," she said. 
The reigning Patriot League Champions entered Patriot League play with a target on their backs, and after dropping an early game in the season to Navy, the Bison have bounced back tremendously.
"Against Navy, we did not have a good showing in general, but I think our response to that was the best thing we could have had. We have been able to bounce back and figure out exactly how we want to play, and we have been getting the results we've wanted from doing that," Gearhart said. 
The Bison are showing no signs of slowing down, as they hope to replicate their success on the road against Lafayette on Oct. 7 at 7 p.m., which will be streamed on ESPN+.
(Visited 164 times, 1 visits today)