Bison Runners compete at the Patriot League Championships
The Bucknell cross country team competed in the Patriot League Championships this weekend at their home course. 
Sam Whittaker '23 led the men's team again, finishing fifteenth overall with a time of 25:11.3. After a hard fight, the men placed fourth place.
Close behind Whittaker was Ben Santos '25, finishing 16th with a time of 25:16.0. Following their teammates were Bobby Lynam '25 (24th, 25:32.5), Noah Martin '23 (38th, 25:55.6) and Henry Didden '26 (47th, 26:08.5). Domenic Campagna '23 also earned a top 50 spot, finishing 49th (26:10.1).
Navy won the meet, with Army as the runner up. Also competing for Bucknell were Christian Cadmus '24 (61st, 26:30.0), Zachary Laird '23 (65th, 26:33.1), Trent Dinant '26 (69th, 26:40.3), Jeffrey Gibbs '24 (70th, 26:43.4) and Harry Marson '25 (76th, 26:55.6). 
The women also finished fifth at the Championships, with Keeley Mistuka '25 (12th, 21:33.9) and Mia Bellucci '23 (13th, 21:34.2) leading the herd together and securing All-League honors. Lauren Trapani '25 earned a top 30 finish with a time of 22:09.1.
Following their teammates were Abby Paczewski '24 (32nd, 22:18.0), Ally Clarke '24 (33rd, 22:18.9) and Caryn Rippey '26 (35th, 22:29.6). Fellow Bison runners Laura Sakol '24 (39th, 22:36.6), Kate Amaddio '23 (47th, 22:46.6), Hollie Walters '24 (49th, 22:49.3), Lauren Joyce '26 (63rd, 23:12.4), Asta Rustad '23 (64th, 23:12.7) and Meghan Smith '24 (67th, 23:27.9) also competed.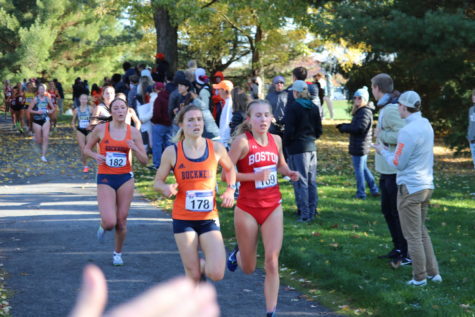 "We were a little disappointed with how our team finished this past weekend," All-League honoree Bellucci said. "However, we are a pretty young team that's not losing many seniors, so there will be time to develop and run better next year. The atmosphere was great on Saturday with lots of parents, alumni and the entire track and field team in attendance. It was also great to see sophomore Keeley get all-league honors this past weekend."
The Bison now work towards the Mid-Atlantic Regional Championships at Penn State on Nov. 11.
(Visited 8 times, 1 visits today)