Athlete of the Week: Tijana Kostic '26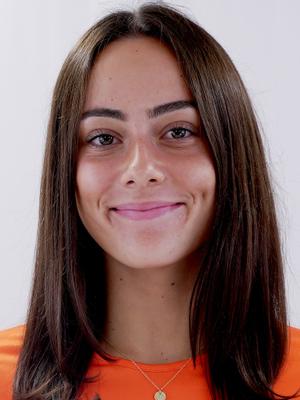 Bucknell Bison Volleyball capped off a historic regular season with an impressive win at Navy, coming back from being down two sets to win the game versus Navy. This win was the first versus Navy since 2015, and the win advanced the squad to an overall record of 15-10, the highest win total since 2006. 
Tijana Kostic '26 came up huge in the victory, racking up a career-high 19 kills along with six block assists. Kostic's 19 kills came on 46 total attempts, and the Illinois native posted just five errors for a .304 hitting percentage. It was the third straight match that the star freshman has led the team in kills. Kostic's performance earned her Patriot League Rookie of the Week for the second week in a row. 
When looking at the team's performance, Kostic was very pleased with how the team responded to adversity. 
"We knew that with this being the last regular season game of the year, we needed to use this game as a stepping stone going into the tournament," Kostic said. "Everyone was really focused on shifting the momentum once we went down in the game and did so with a lot of intensity and aggressiveness. The support system we have is awesome and it really carried us through this game." 
Outside of this performance, the Orange and Blue have had a phenomenal season and are doing things that haven't been done within the program in decades. 
"We've been taking the top teams in the league to five sets all year. I think it was really key we were able to finish this game. This year, we've really shown the league what the Bucknell program can be. I think our success is due to the hard work we've put in all year. We strive for success every time we step on court and it has shown this year. I'm really proud to be part of the program and am looking forward to what's to come," Kostic said. 
This Bucknell volleyball team has consistently risen above expectations and proven the rest of the league wrong. After being ranked eighth in the preseason coaches poll, the squad finished top five in the league, boasting multiple All-League members. Going into next year, this team has a lot to look forward to, as the future of Bucknell Volleyball is as bright as ever.
(Visited 44 times, 1 visits today)