Athlete of the Week: Karen Hull '24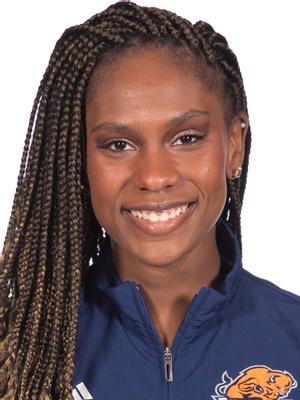 Bucknell Women's Track & Field continued their strong start to the year, picking up the win in the Gulden Invitational in a dominant fashion. The Bison won by a margin of 81 points, topping second-placed Towson and six other teams.
This victory was largely due to the contributions of Karen Hull '24, who led the team in points scored. Hull blazed through the 60 meter hurdles in a first place finish in a time of 8.80 seconds, which also qualified her for the ECAC regional meet. In high jump, the New Jersey native also leaped to a mark of 5-06.50.,
"I just wanted to compete and not overthink," Hull said. "I run and jump on the track everyday, so I just had to do that. I got to the track early so I didn't have to rush my warm up, and I felt like I was able to execute really well."
Hull has been a difference maker for the Bison since she arrived on campus and seems to be on track to reach even greater heights. Despite only being a junior, Hull has 15 event victories, five top-four finishes at Patriot League Championships and is on the top 10 list for five different events including four in the top-three. Hull's impact is felt every time she steps onto the track and will be vital towards the squad's championship run.
Leading up to the Patriot League Championship in late February, Hull believes the team has the potential to do something special. 
"We have a very good team and have to trust each other in order for us to succeed," Hull said. "I was really happy with how we competed because it showed that we are going to put our best foot forward every meet. We just have to have confidence in ourselves that we are capable of doing well every time we step on the track." 
The Orange and Blue look to build off this momentum at the Bison Open and Multi and Penn State National Invite meets on Jan. 27 and 28.
(Visited 8 times, 1 visits today)