Bucknell Track and Field hosts Gulden Invitational, women earn top spot
This past weekend, the Bucknell Track and Field team hosted the annual Gulden Invitational. The women's and men's teams both presented outstanding performances, finishing first and second, respectively. 
On the women's side, Meghan Quinn '24 placed third with a 7.73 time in the 60 meter dash to earn an ECAC qualification. She also completed the 200 meter with a time of 25.00 to set a new personal record, set the second best time of the event and stand seventh best in Bison history. 
Senior Bridget Lalonde ran the best time for Bucknell in the 400 meter dash with a time of 58.31 and finished second. 
Abby Paczewski '24 also finished in first with the fastest time for Bucknell in heat two of the 800 meter (2:21.72).
Eva Linder '24 finished second in the 1000 meter (3:08.24), Lauren Joyce '26 finished sixth in the 3000 meter run and Meghan Smith '24 placed third in the 5000 meter (18:47.67). 
Caryn Rippey '26 finished the mile with a time of 5:01.67, qualifying for the ECAC. Rippey also competed in the 4x400m Relay with teammates Meredith Haberfield '23, Hailey Tabar '24 and Paczewski, finishing first (9:44.11).  
Ella Boback '26, Mikayla Horvath '23, Valerie Fischer '23 and Hanna Davis '23 competed as the A-team for Bucknell in the 4×400 and placed fifth (4:12.01). 
Karen Hull '24 finished the day with two golds and an ECAC qualification. She finished the 60 meter hurdles with an 8.80 time, just 0.06 less than her personal best, and marked 5-06.50 in the high jump. 
Teammates Jenny Scott '23 and Anna Kender '23 tied for first in the pole vault (11-06.25). Scott won in a jump-off. 
"There were a lot of great performances this weekend on the men's and women's team, and I think that is really exciting to think about in terms of what the rest of the season holds," Scott said. "The invitational was just a glimpse of all the hard work this team has been dedicating so far for the indoor season, and I think a lot of people are just getting started. I can't wait to see how we progress as a team in the coming weeks." 
Lila Gaughan '24 joins her fellow Bison in setting a school record, landing a long jump with a 17-06.25 mark. 
Lexi Gray '23 completed the highest triple jump for Bucknell (36-07.75). 
Siobhan O'Sullivan '24 placed first in the shot put event (45-01.50) to earn an ECAC qualification. 
Madison McGloin '24 tossed a 49-05.75 distance in the weight throw.
The men performed well this past weekend too. Brandon Foust '25 finished fourth in the 60 meter dash (6.92) and finished second in the 200 meter event (22.46) to earn IC4A qualifications for both events.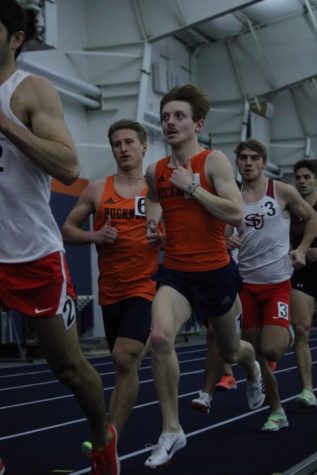 Gardy Philogene '26 was the fastest Bison to complete the 400 meter dash (51.87). 
Colby Belczyk '25 finished first in the 800 meter event (1:55.39), earning a place in the IC4A as well. 
In the 1000 meter run, Zachary Jelinek '26 placed second with a time of 2:33.86. 
Max Lagunoff '25 finished the mile with the best Bucknell time at 4:23.08, Henry Didden '26 earned third place in the 3000 meter dash (8:47.34) and Grayson Crockett '25 finished the 5000 meter run in third place (15:15.57). 
In the 60 meter hurdles, Brian Scotto '25 finished fourth with a 8.61 time. 
Rayven Sample '24, Max Spaulding '24, Philogene and Foust made up the A team competing in the 4×400 meter relay. They finished second with a 3:26.78 time. 
For the 4×800 meter race, Jelinek, Lagunoff, Alex Simpson '24 and Belczyk placed second as well (7:56.670). 
Tristan An '25 won first place in the high jump (6-06.75). 
Senior Franco Perinotti placed first in vault (16-00.75), earning him an IC4A qualification along with the fifth highest mark as a Bucknell record. 
Matt Federovich '24 led Bucknell with a 21-06.75 in the long jump and Chris Sims '25 placed fifth in the triple jump (44-04.75). 
Anthony Zamarra '23 placed second in his event and qualified for the IC4A, throwing a distance of 52-05.25. 
"Overall I think we competed well yesterday," Zamarra said. "[It is] unfortunate to place second at our own meet, but [there are] lots of upcoming meets to make up for it. Once everyone is healthy, we will challenge to win most meets." 
Fellow throwers Robert Feeney '24 (58-10.00) and Jack Calisi '23 (57-10.25) also earned IC4A qualifications in the weight throw event. Calisi's performance records a personal best and ninth for the Bucknell program history.
The Bison looks forward to the PSU National Invite and the Bison Open on Jan. 27 and 28.
(Visited 46 times, 1 visits today)