Athlete of the Week: Meghan Quinn '24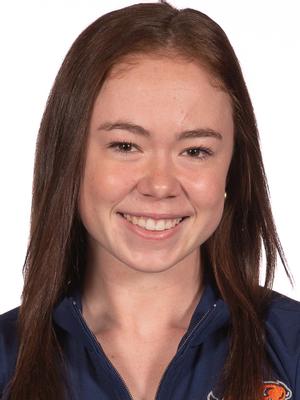 Meghan Quinn '24 added to her already historic career at the Patriot League Indoor Track & Field Championships this past weekend, boasting three podium appearances and breaking multiple records. 
The success of this weekend was a result of the immense hard work and dedication by Quinn and the Bison, which it proved to pay off.
The junior won two silver medals, set a school record in the 200 Meter Dash, improved upon her second all-time mark in the 60 Meter Dash, participated in a record-setting bronze medal relay team, earned three ECAC qualifications and scored 22 points for the Bison. 
"As a team we were really excited leading up to the meet," Quinn said. "There is always a great deal of support from the team and alumni leading up to the meet, so when you're out there you just want to run for them. We knew that if we trusted our training, it would pay off. Whether it was getting extra recovery in, spending more time on the track or even talking to a sports psychologist to make sure we were in the right mindset, we knew that we had put in enough time and energy to see great results." 
The Orange and the Blue were led by Quinn as they scored 78.25 points to get fourth place in the Patriot League. 
This is not Quinn's first time pacing the Bison at the championship meet, as she has found success consistently when it matters most. In fact, Quinn has had a top five finish in every event she has participated in at every championship meet. This level of consistency and excellence is unprecedented, already making Quinn one of the best runners in Bucknell history.
"I still feel nervous before every race although I've been doing this for nearly my entire life," Quinn said. "Throughout the years, I think I've gotten so much better at mentally preparing for races. I feel like I have such a good support system within the program that it makes me excited to run. I really believe that hard work pays off, so I've just trusted the work I've put in and Coach Alexander's training plan, and so far the results have shown. I think as a team we can be even better for the outdoor season, so I'm really excited to see what we can do." 
Quinn and the Bison look to build momentum for their outdoor season, as well as cap off their indoor season, at the ECAC Championships at Boston University this weekend.
(Visited 38 times, 1 visits today)