Loved and respected dean retires
By Katie Monigan
Arts & Life Editor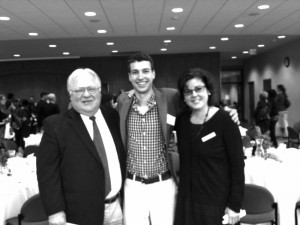 When people talk about Gerald Commerford, associate dean of students, it's hard to believe his role on campus was a disciplinarian. As he finishes his final year before retirement, it's clear that he has won respect and admiration from colleagues as well as students he has touched.
As dean, Commerford was ultimately responsible for distributing punishments, as well as occasional forgiveness points, to rule-breakers at the University. It is therefore remarkable that, when asked to describe Commerford, one of the first things associate dean of students Kari Conrad had to say was, "Whenever I've been with him as he walked into a room of former students, people flocked to him to tell him how he's changed their lives."
When Commerford first accepted his job at the University nearly 40 years ago, he planned on staying for a maximum of four years. But because of "the quality of students, excellence of faculty and terrific environment, I decided to stay," he said.
He later married, and after having his first child, a son, re-evaluated his life and his career and decided again to stay in Lewisburg. After his second child, a daughter, he and his wife again re-evaluated their priorities, and Commerford decided that his personal life was more important than his career. He decided to stay in Lewisburg and work at the University, and "[he doesn't] look back with regret at any minute," he said.
He will stop working at the University at the end of this semester, but he plans to continue living in Lewisburg. "I'm not retiring. I'm just going to stop working," he said.
Commerford recognizes the immense amount of support from his colleagues, but admits that some of them wonder how he enjoys his job because of his disciplinary role. "It's all about education and development. You're far from a finished product when you come here, and you're bound to have failures. It's the most satisfying for me when students spend time away and come back changed and thankful," Commerford said.
In honor of Commerford's career success and influence on many students, the University has founded the Gerald W. Commerford Orange and Blue award given to a student who demonstrates passion, spirit and a committed desire to make the University a better place. This year's recipient was Matt Hotard '11. Conrad, who presented the award, said in her speech, "Matt has been involved in [Bucknell Student Government] BSG for three years, he has spearheaded efforts to change policies, he has served on numerous committees, he has met with administration to discuss issues, currently serves as junior class president and was recently elected as senior class president."
Hotard is thankful for his recognition, and is even more honored to be associated with Commerford, with whom he established a close relationship as a first-year. "He represents all the ideals of Bucknell. He has a close relationship with students, respect for tradition, and a willingness to change with the times. I think he resonates with students so positively because he has an uncanny ability to know when to council and when to discipline. I know from first-hand experience."
A resonating theme seems to be that despite Commerford's disciplinary role, he has not only gained the respect of students, but also their admiration. While they may initially be dissatisfied with his decisions, according to Conrad, "Many students find they needed that kick in the pants to turn their lives around. [Commerford] has integrity, honesty and frequently goes above and beyond the call of duty. He has a heart of gold like no other, and the mark he's made is indescribable. He is respected and admired by so many pockets of people on campus, especially students. He's an amazing man."
(Visited 178 times, 1 visits today)