By Rob Duffy
Managing Editor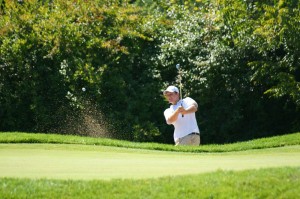 The men's golf team came from behind to win the Bucknell Fall Invitational for the fourth straight year last weekend, defeating Robert Morris by a single stroke.
Story continues below advertisement
Robert Morris led by four following the first two rounds of the 54-hole event, posting a 299-285 (584) on Friday compared to the 293-295 (588) of the second-place Bison "orange" team. The Bison's score rose to 300 in the final round on Saturday, but it was good enough to overcome Robert Morris, which shot 305.
The Bison ended with a team score of 888, compared to Robert Morris' 889. Fordham came in third with a 894 and Lehigh and Laval were tied for fourth with 896s.
Thirteen teams competed in the field, including an additional Bison "blue" team that came in 11th, shooting 912, but posted the third-best score of the day on Saturday with a 299.
Jon Hartman '13 of the "blue" team was the top finisher for either Bison team, finishing in second place with 214. After shooting 77 in the first round, Hartman finished with rounds of 68 and 69 to close the tournament. Hartman finished three strokes behind C. G. Mercatoris of Robert Morris, who was the individual champion.
Will Bachman '12, J. J. Szmadzinski '13 and Dan Bernard '13 all led the "orange" team with three-round scores of 221, good for a tie for ninth place. Rounding out the "orange" team were Ben Mattingly '11, who finished tied for 28th with a 227, and Andrew Wallisch '11, who finished tied for 34th with a 229.
The remainder of the "blue" team included three first-years making their debuts. Schuyler Stitzer '14 finished tied for 16th with a 224, while Matt Haller '14 shot a 231 and Billy Wright '14 shot a 243.
The Bison men travel to Ithaca, N.Y. this weekend to compete in the Cornell Invitational.
The women's golf team was off this week and will travel to Madison, Wis. to compete in the Badger Invitational this weekend.
(Visited 139 times, 1 visits today)