Water polo takes fourth at ECAC tourney
By Chris McCree
Contributing Writer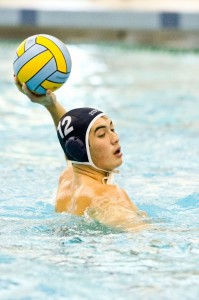 The top-seeded men's water polo team lost two out of three games last weekend at the ECAC Championships at Harvard University but managed to finish in the top five for the seventh year in a row. The Bison claimed fourth place in a tough 12-team field consisting of schools from along the East Coast.
The Orange and Blue opened the tournament with a 21-3 victory over George Washington that featured four-goal performances by Jack Else '14, Richie Hayden '11 and Trevor Reitz '14. The Bison eclipsed the 20-goal mark for the third time this season, and Hayden became the ninth player in school history to reach 200 goals for his career.
The Orange and Blue experienced an offensive stall after their first game as they managed only 13 goals combined in their final two games against Brown and Princeton. The Bison fell to Brown 11-7 during their semifinal matchup on Saturday after having beat Brown a week earlier at the Bucknell Invitational. Howie Kalter '11 scored four goals. The Bison trailed the Bears the entire game but managed to cut the deficit to one through three periods, but were outscored by the Bears 3-0 in the fourth.
Bison offense struggled during their third-place game against second-seeded Princeton. Sean Coghlan '11 scored twice and was the team's only multiple-goal scorer in the 9-6 loss. On paper, this game was the Bison's toughest matchup as Princeton came into the tournament ranked 17th in the nation. The Orange and Blue played tight in the first half, but the defense could not keep up with the Tigers late in the game.
Inconsistent play on defense has troubled the team all season. The Bison have surrendered nine goals or more seven times this season.
"We need to improve our team defense so that we can hold teams to under seven goals," Hayden said.  The Bison are 5-0 in games where they have held teams to under seven goals.
After going 1-2 this weekend in Boston, the Bison are 7-4 and are about to enter a crucial part of their season. This weekend the Orange and Blue travel south to Maryland and Washington, D.C. to play three games against league rivals Johns Hopkins, Navy and George Washington. The Bison have yet to play Johns Hopkins or Navy this season but are 1-0 against George Washington.
(Visited 69 times, 1 visits today)