By Laura Crowley
Contributing Writer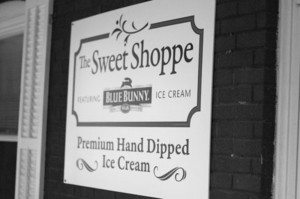 Lewisburg's first downtown ice cream parlor opened last week, Friday, Sept. 17.  The Sweet Shoppe is located next to Bull Run Inn on 611 Market Street and is owned by inn owners Mike and Lois Purcell.
The Sweet Shoppe sells hard-dipped ice cream, milkshakes, ice cream sodas, banana splits, malts, cookies, penny candy and coffee in its 1920s-themed parlor.  The employees sport traditional soda jerk uniforms with red stripes.
Story continues below advertisement
Mike Purcell decided on a 1920s theme during the renovation of the property, when he discovered original oak hardwood flooring dating back to 1922.  He decided to preserve it, along with a mantel and archway from the era.
The couple has owned the property for three and a half years and has used it as an office space.  The Purcells converted the space into an ice cream parlor thinking that downtown Lewisburg could use one.
In addition to Bull Run Inn, the Purcells own Puirseil's Irish Pub and Parkview Catering.  The Sweet Shoppe is the first ice cream parlor the couple has owned.
Opening day was a relative success, as the crowds were evident but "did not scare the workers away," Purcell said.

Students eagerly welcomed Market Street's new edition.  "An ice cream shop is necessary in downtown Lewisburg.  Students are excited about the store, and I think it will do very well," Jocelyn Baumgarten '13 said.
The Shoppe is open seven days a week, from 2 to 9 p.m. Monday through Thursday, 2 to 10 p.m. on Fridays and Saturdays and 11 a.m. to 8 p.m. on Sundays.
(Visited 86 times, 1 visits today)