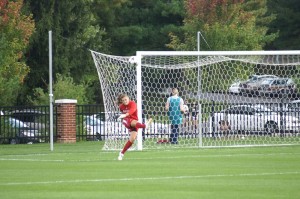 By Eric Weiss
Senior Writer
The Bison women's soccer team suffered a 1-0 loss at Marist on Friday but rebounded at home against Iona with a 2-1 victory on Sunday, breaking a nine-game losing streak in the process.
Story continues below advertisement
The team attempted shot after shot on the Marist goalie in the first half but Brooke Stokes '11 and Christa Matlack '11 both narrowly missed scoring for the Orange and Blue.
Bison goalie Sandita McDermott '13 kept the score close with nine saves, but the Red Foxes cracked the scoreboard in the 41st minute on a direct kick.
In the second half, the Bison were stifled by Marist's defense and were unable to score. McDermott continued to keep the game close,  stopping a breakaway in the 75th minute, but the Orange and Blue could not capitalize on their offensive opportunities.
On Sunday, the Orange and Blue got off to a fast start against Iona. Throughout the first half both teams had opportunities to put the ball into the back of the net. Kelliann Doherty '11 had shots early in the game to set the tempo for the home team.
"We knew that applying pressure early would put us on the way towards a win," Doherty said.
In the second half, Caitlin Holtz '11 ended the scoring drought for the team in the 62nd minute, burying a shot past the Iona keeper. Just over a minute later, Liz Dwornik '14 scored another goal for the Bison to give the team a comfortable cushion.
Iona was only able to muster one goal in the second half. The Orange and Blue held Iona in check and as the final whistle blew the Bison came away with a 2-1 victory.
"The feeling of getting a win going into Patriot League play is a great one as it helps us build for our eventual goals," Jules Harris '11 said.
The Bison open Patriot League play with a home match against the American Eagles on Saturday at 12 p.m.
(Visited 92 times, 1 visits today)