People of the Year: Christina Cody
By Jenni Whalen
Senior Writer
As Christina Cody '12 sits in the Student Center, surrounded by the hustle and bustle of the mid-day ELC crowd, she exudes a calm spirit. Tucking her brown hair behind her ears, she leans forward to describe her fascination with the University's social culture, which is the core focus of her Double Take Project. As she explains her discoveries about the campus culture and her desire to help students feel less lonely, it makes complete sense that she has been chosen as one of this year's People of the Year.
A senior from Cold Spring Harbor, N.Y., Cody is a theatre major and a dance minor. Most of her campus involvement centers around the theatre department, as she directs and performs pieces throughout the year and also works as a teaching assistant. This year, Cody has dedicated much of her time to her work on Double Take Project, which has become the basis of her senior thesis.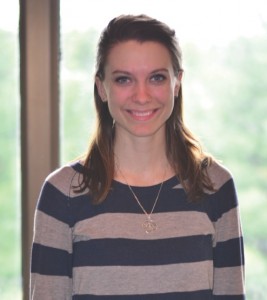 Double Take Project began during her junior year, far before the release of the Campus Climate Task Force report. But the report came as a happy accident because she was able to use its findings in her thesis.
"My main goal was to gather a cultural representation of Bucknell's cultural scene," Cody said. "It was kind of like theatre anthropology but nothing that formal. I wasn't looking to make a new campus report, but I wanted to show things from the student perspective."
As a part of her project, Cody interviewed 36 students on campus. She then transformed those interviews into a one-woman show where she performed the stories of those she had spoken with.
Those interviews also became part of a radio show. WVBU airs the story of one person each day. Cody also used her interviews to create a script and short performance for Take Back the Night, and she stood outside of the ELC with a sign that said "Tell me a story about the social scene" each day for a couple of weeks. She also conducted workshops with many organizations on campus.
"My work was about the social scene, but it was also about promoting trust and change through the use of theater techniques," Cody said. "And the biggest thing I learned is most students have public and private personas. In workshops, students were often very reserved but in interviews, they shared very private things. Many students said they feel alone or are afraid. Basically, there is a lot of pressure to seem like you're happy with everything which results in a lot of loneliness."
Assistant professor of theatre and dance Anjalee Hutchinson has nothing but praise for Tina's efforts to better student life through her senior project.
"Tina Cody is a bit of a Bucknell theatre program rock star," Hutchinson said. "It has a bit to do with her tremendous talent, that's definitely part of it–but a lot more of it is about who she is. She has this insatiable internal drive/hunger for performance, for theatre, for life. If The Bucknellian had a 'most likely to' section for their seniors–I wouldn't say Tina would be most likely to be on Broadway. I'd say she's the one who's most likely to change the world."
Cody's fellow students also have very positive things to say about her overwhelming calm and her remarkable ability to promote change. Laura Neely '13 participated in one of Cody's workshops this spring.
"Tina holds such passion for creating an environment built around open communication," Neely said. "Working with her was a very rewarding experience. Tina's view of Bucknell and the social life which accompanies it is refreshing, and I can see the positive impact she has made on the entire Bucknell community."
Professor of theatre Gary Grant also feels that Cody has made a tremendous impact on the community during her four years on campus, but especially during her senior year.
"If you saw her play Dolores Montoya in last weekend's musical 'The Wild Party,' you know that this woman is a talented actress," Grant said as he presented her with a leadership award this week. "But this year, she stepped out of the bright lights and applause because she had a vision of a Bucknell where men and women treated each other with respect. Tina gave voice to what she heard in interviews and turned her research into action. Her Double Take Project was definitely what Bucknell needed to hear in the way that Bucknell needed to hear it."
As she nears graduation, Cody's advice to her fellow University students is three-fold. First, she would like to remind her fellow students that they are not alone. Second, she urges students to be honest and real with themselves and each other as much as possible.
"I really think that our biggest problem on this campus is that we focus on external issues and the big picture," Cody said. "But I think it's more about working on yourself and figuring out who you are. I honestly believe that if you have a strong sense of self, you won't get swept away in the pattern."
And third, Cody advises students to meet with the administration and get to know them. She insists that if you can find a way to get your ideas out there, the administration will be on your side.
"I just want people to take action," Cody said. "If you believe in an idea, try to make it happen here because it can."
Cody hopes to continue her work with human justice through theatre techniques in India next year.
"But that's just a dream, a massive dream. Can you ask everyone to think about a question for me? In my interviews, the last thing I always say is this: Ask yourself, if you could shout out just one thing to all Bucknellians and everyone could hear you at once, what would you say?"
(Visited 565 times, 1 visits today)