Tennis shines at Bucknell Invitational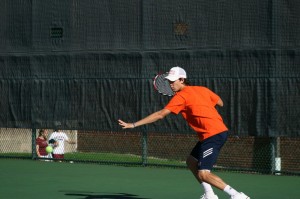 By Cooper Sutton
Sports Editor
Both the men's and women's teams claimed titles in the Bucknell Invitational this past weekend. Colgate, Connecticut, Fairleigh Dickinson and George Mason all competed.
Lauren Lucido '11 won the Flight A singles tournament—possibly the highest achievement attainable over the weekend. She defeated Fairleigh Dickinson's Elmine Botes in the finals.
"I felt no pressure coming into the final match on Sunday. I had just lost to [Botes] in the tournament at Army the previous weekend, so I had nothing to lose in our rematch," Lucido said.

Even though she quickly fell behind 2-5 in the first set, she kept her composure and came back, winning the set in a tiebreaker. Lucido stayed hot for the second set, and she won the match 7-6, 6-3.
The men's team also played well. "I thought the team performed great this weekend. To win three titles was a notable accomplishment," Flight B singles champion Kelly Morque '13 said. The other two titles came in Flight C singles from Gregory Maxson '12 and in Flight B doubles from Gregg Cohenca '12 and Mark Malloy '12.
Morque's victory at the Invitational improves his record this fall to a 10-0.He defeated Ryan Carr of Connecticut in one of the most contentious matches of the season. After the two players split the first two sets at 6-4 apiece, Morque took the 10-point "super tiebreaker" with a score of 13-11 for his second championship of the fall.
In the Flight C championship, Maxson rebounded from a 6-3 loss in the first set to take the second set in a tiebreaker then to win the super tiebreaker 10-8. Cohenca and Malloy also had a tight match, winning 8-6 in their eight game pro-set.
Because this was the last home tournament of the fall, the teams should be able to take this momentum into the upcoming seasons.
(Visited 95 times, 1 visits today)