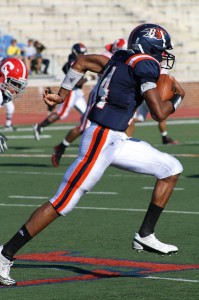 By Greg Stevenson
Senior Writer

Although the Bison outgained the Big Red by over 50 yards on offense and recorded four turnovers, the Bison could not translate their dominance into a victory, falling 21-12 to Cornell at home. The defeat moves the Orange and Blue to 0-4 on the season.
Story continues below advertisement
After a 65-yard kickoff return that put the Big Red inside the red-zone to start the game, the Bison responded with an interception by Josh Eden '12 on Cornell's first play from scrimmage.
The Bison drove all the way down to the Cornell 28-yard line before their drive stalled and turned the ball over on a failed fourth-down attempt.
After Cornell went three-and-out on their second offensive possession of the game, the Orange and Blue drove deep into Big Red territory again, but could not pick up any points, as a field goal attempt by kicker Drew Orth '12 sailed wide right.
With less than a minute remaining in the first quarter, Cornell opened the scoring for the game. Sparked by a blocked punt, the Big Red ran the ball in from two yards out to take the lead, 7-0.
Starting at their own 40-yard-line, Cornell drove 60 yards in 10 plays, and capped off its drive with a 14-yard touchdown run that pushed the lead to 14-0. The Bison avoided a shutout in the first half, driving inside the Big Red 10-yard-line before settling for a field goal.
In the second half, a 46-yard drive led Orth to record his second made field-goal of the game. Cornell quarterback Jeff Mathews then completed two passes on the third down to keep the drive alive and a 35-yard pass set up Cornell's third and final touchdown of the game.
Down by 15 with less than five minutes left in the third quarter, the Bison answered Cornell's scoring drive with a touchdown. Quarterback Brandon Wesley '14 accounted for a combined 55 yards rushing and passing on the drive, including a 14-yard touchdown scramble. Wesley finished the day with 267 yards through the air and 49 yards on the ground.
Despite his touchdown run, the Bison were unable to convert a two-point conversion that would have brought the deficit to seven. The Orange and Blue threatened only once more, but their drive ended when Wesley threw his only interception of the contest. The Big Red was able to run out the clock, handing the Bison their fourth consecutive loss of the season.
Still searching for their first victory of 2010, the Bison finish up their three game home-stand against Penn this Saturday at Christy Mathewson-Memorial Stadium at 1 p.m.
(Visited 53 times, 1 visits today)