Cooking Corner: Oreo Cupcakes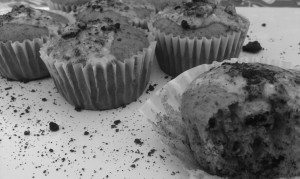 Katie Mancino
Staff Writer
Oreo Cupcakes
109 calories, 19 carbs, 2g fat, 2g protein
Oreo cupcakes sound like the last thing that could be made in a healthy way, but it turns out that a lot of calories in Oreo cookies come from the cream filling (made mostly of shortening and sugar). By carefully scraping it off and not using it, you can quickly cut some out and still get the chocolatey, crunchy Oreo goodness in these fluffy, easy to make cupcakes! Try topping them with a dollop of fat free Reddi-wip and some crushed Oreo pieces.
Makes 15 cupcakes
Ingredients:
6 Tbsp Land O'Lakes Light Butter
1/4 cup packed brown sugar
1/2 cup Truvia Baking Blend
2 egg whites
1 cup Vanilla Silk Light Soymilk
1 tsp vanilla extract
1/2 tsp salt
1 tsp baking soda
1 1/2 cups all purpose flour
6 Oreos, filling scraped off & discarded, wafers crushed (use a ziplock bag)
Directions:
1. Preheat oven to 350 F (177 C); put 15 cupcake liners in cupcake tin.
2. Beat sugars and butter until color lightens (an electric mixer would be best, but hand mixing will work too).
3. Mix in soymilk, vanilla and egg whites.
4. Mix in flour, salt, baking soda and Oreo until a smooth batter forms.
5. Fill each muffin tin with about three generous tablespoons of batter (about 3/4 of the way full).
6. Bake 15 minutes until golden colored, let cool, put on toppings and enjoy!
(Visited 63 times, 1 visits today)