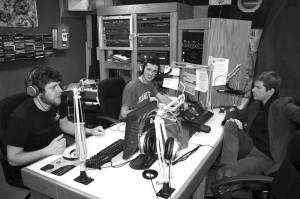 Alex Alam
Contributing Writer
For the first time in 16 years the University's radio station WVBU, is kicking off the school year the way they feel a radio station ought to: by organizing a "mini-festival," featuring a few of the school's many student artists.
The First Annual WVBU Student Music Showcase will be tonight at Uptown. This is the first of a series of hopefully many events that will introduce student musicians to the rest of the school.
Story continues below advertisement
After last semester's overhaul of the station's programming and campus involvement and the complete physical transformation of WVBU's control room, the station's board members decided it was finally time to shift their focus back to the most important part of campus: the students.
"It was all of a sudden," Christos Schrader '14 said, "But we realized that there's all of these crazy talented people around campus, and we hadn't done anything to celebrate that."
Tonight's showcase aims to change that. Featuring talented performers in a wide range of genres, styles and backgrounds, the event was planned so people with all types of tastes can find a group they like that may have otherwise gone unnoticed. Performers include folk/punk outfit Those Damn Jackalopes and popular alt-rock group The Wingmen. In between bands, singer-songwriter Colin Hassell '15 will show off his vocal skills with acoustic sets. Closing out the party will be the underground and experimental rap/electronic music collective known as The Banquet.
"I wanted to put on a show that I would enjoy going to from start to end, and I think we did that, because there's such a cool variety," Charlie Geitz '15 said.
The show will be nearly non-stop, with members of the radio station working closely with Uptown staff to keep the party going.
The results "will be crazier than any register, because it's not just live music, but the people going nuts on stage are in your classes too," Geitz '15 said.
"I think that people think there's always been a pretty good music scene here, but you had to look closely for it. Hopefully, we can be a kind of weird metaphorical magnifying glass," Duke Wellington '15 said.
The WVBU Student Music Showcase will be at Uptown tonight, with doors opening at 8:30 p.m. and the show starting at 9 p.m.
(Visited 47 times, 1 visits today)