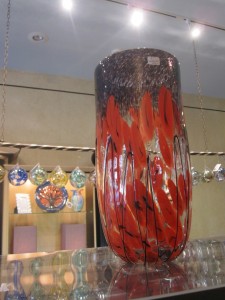 Olivia Seecof
Writer
Trebecca, an updated jewelry and unique gifts store opened on Market Street in June 2012. This is the second location for Trebecca; the original store opened in Williamsport in September 1998.
The store, while not large, is packed with handcrafted jewelry in both sterling silver and 14kt yellow or white gold. On display are multiple cases of designs ready for purchase by Jen Parks and David Baker, goldsmiths of Williamsport. In addition, Trebecca sells Sherry Tinsman's flower jewelry–delicate and trendy jewelry for all ages.
Story continues below advertisement
To highlight one of the handcrafted pieces, Trebecca is featuring a Lewisburg Lamppost pendant that is currently available in sterling silver and 14kt gold with diamonds.
"If it has got the Trebecca thing going on, we'll have it. The variety of jewelry and gifts our store offers gives us across-the-spectrum price points within the quality we want to be.  We are always trying to take chances and find different things, and that is what makes us an interesting and fun store," owner Paul Hendricks said.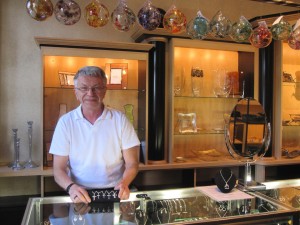 When Hendricks refers to the "Trebecca thing," he means the distinguished, classy and modern look to everything in the store. In addition to the local handcrafted jewelry, there are Phosphor digital watches with flipping crystals, Marlyn Schiff fashion jewelry, as seen in many popular magazines, as well as freshwater pearl bracelets and pendants engraved with Greek letters for all of the sororities on campus.
"I love the fact that they carry such classy and unique jewelry. I am especially excited to hear that they have things especially for us sorority women to buy," Amanda Smith '14 said.
Jewelry is not the only thing lining the display cases and shelves. Various gifts such as picture frames with impeccable wirework, stained glass Witch Balls, salad servers and cheese platters can be found at Trebecca. There are also hand-poured soy candles with interesting scent combinations, like gingered clove and jasmine, which smells just like ginger ale.
"I am excited to hear about a new store where my mom can stop in and buy things on Family Weekend and when she comes to visit," Nicki Briggs '14 said.
The contemporary feel of Trebecca brings diversity to the retailers on Market Street.
"We walked the town before we committed to Lewisburg, and we thought Trebecca would be a terrific asset to downtown," Hendricks said.
"I think they are all very gorgeous. I saw several things I will come back to buy. Trebecca is beautiful and unique," Vicki Sees, a local customer from Millvale, Pa. said of the items in the store.
Hendricks said the name Trebecca doesn't mean anything in particular, other than it's a combination of different syllables that when put together, "just felt right." Hendricks also said that members of the community can look forward to the addition of fancy scarves to the store's inventory as well as decorations for the upcoming holidays.
To add to the contemporary feel, Trebecca has free gift-wrapping in their signature leopard print paper with a black bow on any purchase.
"I want my customers to come in, take a deep breath and enjoy the experience of shopping at Trebecca," Hendricks said.
(Visited 377 times, 1 visits today)