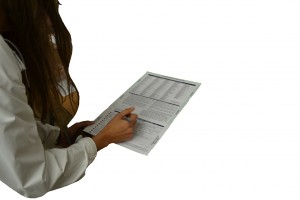 Rock the Vote:  BSG Provides Voter Registration to Students
Brianna Marshall
Contributing Writer
Bucknell Student Government (BSG) has initiated a new program called Bucknell Rock the Vote to help students prepare for the upcoming presidential election. From Sept. 17 to Oct. 5 in the Elaine Langone Center, BSG will be providing assistance with everything from voter registration to absentee ballots. BSG hopes that the new program will encourage students to cast their votes this November.
Story continues below advertisement
"BSG's goal is to increase student involvement on campus, including civil duties such as voting," BSG Vice President of Administration Clinton Kittrell '14 said. "It is our hope that all students will become actively engaged on our campus, in our community and in the nation."
Participation in Rock the Vote is open to all students, even if they are completely new to the process. In addition to new voter registration, re-registration is available to those who are already registered to vote in their home counties or states and would like to vote locally in Union County. BSG members can also assist with applications for absentee ballots for nonlocal registrants. Students who are not in need of voting assistance are still encouraged to visit a Rock the Vote table to show proof of registration and be counted in their class voter registration total. Each BSG class is competing to obtain the most registered voters.
While voter assistance is always a necessity during election season, the launch of Rock the Vote is particularly important given the creation of new Pennsylvania voter identification laws. Voters in Pennsylvania are now required to present valid photo identification on Election Day. Accepted forms of identification, including Pennsylvania driver's licenses, must display an expiration date.
"We've been getting so many questions and this year with the new laws, it's a bit more confusing," Kari Conrad, associate dean of students said.
With the help of Rock the Vote, students will be completely prepared and informed about new voting requirements. Students who are registered or re-registered to vote in Pennsylvania but cannot produce a Pennsylvania driver's license now have the option of using their University IDs to vote. Official expiration stickers are able to be applied to student IDs by university officials, making local voting possible. Rock the Vote can assist with this necessary addition to student IDs and is capable of answering questions regarding valid identification.
Rock the Vote is providing students with the opportunity to become engaged in the world outside the "Bucknell Bubble" in a simple and convenient way. After its first week of operation, Rock the Vote has already begun to grab student attention.
"I was already planning to vote in this election, and I visited the Rock the Vote table for registration forms. I have friends who have decided to vote after seeing the Rock the Vote table. I think that it is making students more aware of the importance of voting," Jen Heider '15 said.
(Visited 51 times, 1 visits today)