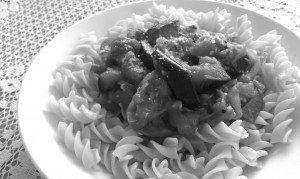 Katie Mancino
Staff Writer 
15-Minute Meal: Pasta With Homemade Spicy Eggplant Tomato Sauce
This is quickly becoming one of my top five favorite dishes. It's delicious, easy to make and uses stuff I always like to keep on hand. You can make it as spicy as you want based on how many pepper seeds you throw in. If you don't have tomatoes around you can use canned diced tomato (1/2 cup canned= 1 fresh tomato). If you want more protein, add in a can of cannellini beans when you add the tomatoes.
Story continues below advertisement
Ingredients
8 oz (4 servings) Rozoni Smart Taste Pasta

1 cup chopped red onions

1 cup chopped green peppers (save about 1/2 the seeds)

4 cloves garlic, chopped

1 tsp. dried oregano

1 Tbsp. chopped fresh basil

4 vine ripe tomatoes

5 cups cubed eggplant (about 1 medium-sized eggplant)

1 Tbsp. olive oil
Directions
Put a pot on the stove to boil water for the pasta.

In a medium pan over medium-high heat, cook onions, peppers and 1 tsp. olive oil for two minutes.

Add tomatoes and 1 tsp. olive oil and cook for three minutes

.

Add eggplant and last tsp. of olive oil, reduce heat to medium and let cook until the eggplant is soft (5-8 minutes).

While tomato sauce cooks, toss in pasta and drain when finished.

Top each serving of pasta with 1/4 of the tomato sauce.
Makes 4 servings
274 calories, 4g fat, 57 carbs, 8g protein
My website: piecesinprogress.tumblr.com
(Visited 40 times, 1 visits today)