Fall Fest Recap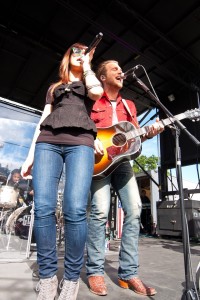 Caroline Schaeffer
Writer
On Sept. 15, Campus Activities & Programs (CAP) hosted a school-wide "countrified" Fall Fest on the Sojka Lawn, featuring performances by Tyler Hilton, Gloriana and Jack Ingram. Fall Fest was held from 1 to 6 p.m. and included a variety of different events, such as old time photos, a ferris wheel, a mechanical bull and an obstacle course. A southern dinner with mac 'n cheese and sloppy joes was also included.
"Fall Fest is a really nice opportunity for the whole school to bond as a community with cool and fun activities offered that students can actually enjoy, and some good food," Amelia Romero '16 said.
It was cloudy and breezy when the crowds started to gather at the festival around 1:30 p.m., and many were wearing their most "countrified" cowboy boots, jeans and plaid shirts. Musical entertainment was provided by student band "Colin and the Hassels," who performed popular country songs like "Wagon Wheel" and "Shake It For Me" for the early crowd.
Booths were set up all around the lawn, and students had a variety of different options when it came to entertainment. The mechanical bull and "Rattlesnake Run" obstacle course provided more physical forms of entertainment for students, while the old time photos, bracelet-making station and tie-dyeing station offered students a creative and fun way to bring home a souvenir from the festival.
The sun came out around the same time as the day's first performer, Tyler Hilton. Hilton, 28, who is known for his role as Chris Keller on "One Tree Hill," engaged the crowd in some playful banter and performed many of his most popular songs, including "Jenny Turn Around" and "Prince of Nothing Charming." Hilton concluded his performance around 3:15 p.m., but stuck around afterwards to take photos with fans.
A large crowd began to gather around the stage at about 3:30 p.m., when Gloriana, a country music group from Tennessee, was set to perform. They opened with one of their main hits, "Wild at Heart." The lead singer Rachel Reinert, encouraged cheering from the crowd throughout the band's performance. They ended with their highest charting single "Kissed You Goodnight," which has now sold over 800,000 copies.
A lot of students seemed to enjoy this year's change in music for Fall Fest.
"I like the choice of country music for the festival's theme. It was a fun idea," Xander Vining '14 said.
The festival began to wind down around 5 p.m. when country rock singer Jack Ingram performed to finish the day off. Ingram performed a number of upbeat country rock songs for the crowd. During his performance, students lounged on the grass and enjoyed the day's weather with friends. The festival ended at 6 p.m., and with the kickoff of fall already under their belts, students were ready to return to their daily lives, perhaps a little more countrified than they had been before.
(Visited 66 times, 1 visits today)