Cooking Corner: Tuna Mac & Cheese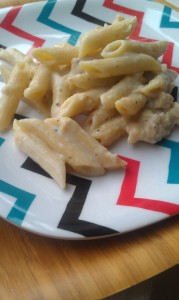 Katie Mancino
Writer
15-Minute Meal: Tuna Mac & Cheese
309 calories, 5g fat,  46 carbs, 23g protein
Makes 4 servings
I made this classic in the Swartz kitchen for a few friends recently. We're all short on time so it was great to be able to sit down together with a delicious dinner that was so easy to make. It's a dish I love because it's fast, easy and is completely made from things I always have around–Laughing Cow cheeses and canned tuna are always in my mini fridge! The cheese wedges aren't just to save calories (although at 35 calories each they definitely do), they're soft and creamy, making the sauce creamier and richer too.
Ingredients
1 Tbsp minced garlic
2 cans chunk white tuna
8 oz (4 servings) Ronzoni Smart Taste Penne
1 Tbsp Land O' Lakes Light Butter
1 Tbsp flour
1 cup nonfat milk
4 Laughing Cow Garlic & Herb cheese wedges
Directions
Start pasta and make the sauce while it cooks.
In a separate pan over medium heat, cook garlic and tuna for 3 minutes with 1/4 cup water. Season with salt and pepper.
Remove tuna from pan. Using the same pan, melt the butter with the flour, cooking for 1 minute until it forms a thick paste (called a roux).
Add milk and cheese, then stir until it all melts and becomes a thick sauce (about 5 minutes).
Toss sauce, tuna and pasta together and enjoy!
(Visited 57 times, 1 visits today)