Diversity speaker promotes black fraternities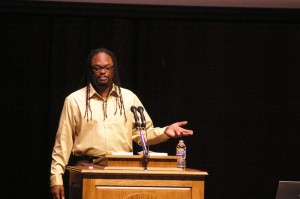 By Mike McPhee
Senior Writer

For members of historically African American fraternities and sororities, membership is a commitment that lasts a lifetime, said a prominent African American author.
Dr. Lawrence Ross Jr., a member of Alpha Phi Alpha Fraternity and author of the book "The Divine Nine: The History of African American Fraternities and Sororities," spoke to a crowd of predominantly Greek students in the Weis Center for the Performing Arts on Tuesday night.
"With African American fraternal organizations, it is built to be a lifetime love of activity … Our response will always be I AM a member, in the present tense," Ross said. "Our leadership cannot stop once we get our degree."
Ross said the historical origins of National Pan-Hellenic Council (NPHC) fraternal organizations fostered their characteristic lifelong membership. The nine historically African American fraternities and sororities, nicknamed "The Divine Nine" in his book, were a way for African Americans in higher education to develop leadership, become first-class citizens and end discrimination.
Ross said it is the responsibility of fraternity and sorority members to uphold the ideals that their founders laid out for their institutions.
"When you are initiated into your organization, you have now told the world that you are about to follow the principles and ideals that your fathers created over 100 years ago. That means they expect you to actually live up to those principles—and living up to those principles is not a part-time job," Ross said.
Despite the differences between "The Divine Nine" and other fraternities, Ross had other advice that was applicable to all Greeks. Using his past experiences as a guide, he warned students about the dangers of the "slippery slope" leading to hazing and about the importance of not becoming preoccupied with social events.
"The weak links are the ones who give us our reputations," Ross said, adding that students should remember that they are constantly representing their Greek organization and must be consistent in their behavior.
"You cannot mold a person; you can grow a person. That's the beauty of fraternalism," he said.
Although he was advertised to the campus community as a "diversity speaker," Ross did not directly speak on the topic of diversity in the Greek system at the University. The only NPHC fraternity with an active chapter at the University is Kappa Alpha Psi.
"My impression of the reaction of many students was that the idea of 'black' Greek organizations is racist, and therefore undermined the notion of the lecture as a 'diversity speech.' Students should also understand that the existence of historically African American fraternities and sororities stems from a long history of discrimination and the culture has been built up around that history," Matt Tilford '11 said. "While Ross' talk may not have been very equitable in tone, it certainly still accomplished its goal of discussing diversity."
(Visited 193 times, 1 visits today)