Volleyball continues win streak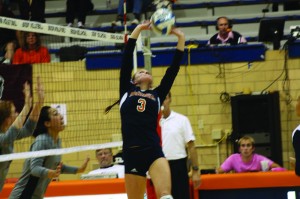 By Mike Wolf
Contributing Writer

The women's volleyball team followed a stellar performance two weeks ago with another impressive win this weekend over Colgate. The team moved to 4-1 in the Patriot league as they defeated the Raiders in five sets.
Rachel Rodriguez '11 was named Patriot League player of the week and Bison athlete of the week. She posted a career-high 43 assists and 15 digs in the five sets.
"We really came together as a team and collectively focused on executing the game plan. I had a great match on Friday night, but I couldn't have done it without my team," Rodriguez said. "Without good passes and hitters who put the ball down, the setter is nothing."
The team won the first two sets 25-17 and 29-27, but ran into difficulty in the third and fourth sets. The Bison held allowed frustration to impede their game plan in the third and fourth, losing the two sets 23-25 and 18-25 respectively.
Needing to refocus to win the match, the Bison won the fifth set 15-10, getting five of the last seven points off kills.
Three of the final five kills came from Heidi Kamp '11. Kamp had 22 kills in the five sets and continuously helped to push the offense forward and to keep the momentum going.

"The good news is we woke back up and pulled through at the end of a tough match and walked away proud and victorious," Kamp said. She also attributed the team's success to positive team chemistry and a strong trust in one another.
Three other players had double-digit kills and four other players had double-digit digs. The offense was propelled by Kyleigh McAhren '12 with 15 kills, Katie Baumgarten '12 with a career-high 13 kills and Ragin Jackson '13 with 11 kills.  Leylin Marroquin '14 had 22 digs, Baumgarten had 14 digs, and McAhren and Emily Sawanobori '12  each had 10 digs.
The Bison face their next challenge this Friday against Army at 7 p.m. and travel to Holy Cross on Saturday for a 4 p.m. game.
(Visited 62 times, 1 visits today)