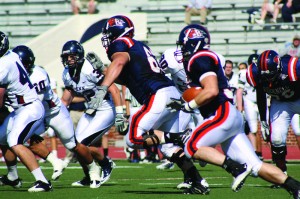 By Greg Stevenson
Senior Writer
The Orange and Blue football team dropped its third home contest of the season 31-10 to the Penn Quakers. Although they forced three turnovers, the Bison were out-gained by almost 300 yards and recorded just nine first downs. The Orange and Blue (0-5) have lost 10 out of their last 11 games, dating back to last October.
Story continues below advertisement
It took just one Penn drive for the Bison to find themselves trailing. Starting in Orange and Blue territory after another long kickoff return against the Bison, the Quakers drove into the red-zone before settling for a field goal to take an early 3-0 lead four minutes into the game.
The Bison offense started strong, pushing the ball down the field on their opening series, but could not come up with a crucial fourth-and-one attempt to keep the drive alive. Both teams traded possessions until late in the first half, when Sean Rafferty '12 intercepted a pass and returned it to the Penn one-yard line. Travis Friend '14 rushed for a touchdown on the next play to put the Orange and Blue up, 7-3.
Penn answered the Bison touchdown right before the half. Thanks to another huge kickoff return, the Quakers faced a short field. Quarterback Ryan Becker made quick work of the Bison defense, completing three passes on three straight plays, including a 12-yard touchdown throw.
Penn registered touchdowns on three of their first four drives in the second half, turning a close game into a blowout. Quaker running-back Brandon Colavita delivered the first blow, scoring a touchdown from 13 yards out midway through the third quarter to make the score 17-7.
Jeff Jack tacked on another score later in the third quarter, allowing the Quakers to take a commanding lead. Colavita struck again early in the fourth quarter with his second touchdown of the contest. The Orange and Blue tacked on a field goal late in the game to make the score 31-10.
The Bison go back on the road this weekend as they travel to Washington, D.C. to face the Georgetown Hoyas at 1 p.m. on Saturday.
(Visited 59 times, 1 visits today)