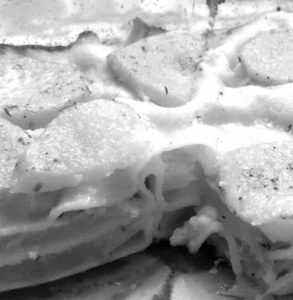 Katie Mancino
Columnist
Butternut Squash Lasagna
277 calories, 42 carbs, 8 g fat, 12g protein

Story continues below advertisement
Fall is in full swing, and since fall holidays are around the corner, I thought it was time to start busting out the healthy holiday recipes! Butternut squash lasagna is always delicious, but is usually filled with heavy creams and cheeses (I was drooling over a "Better Homes and Gardens" food blog recipe that tipped the scales at 700 calories). So, I decided to make a lighter version that had all the roasted cheesy flavor without all the fat and extra calories. It's a perfect dish to impress friends or family, or to just enjoy yourself. Even though there's a few steps, it's actually a simple dish to assemble and is absolutely well worth the effort. I cut mine into six squares and put each serving in an individual Tupperware to enjoy throughout the week.
Ingredients: Makes 6 servings

6 cups butternut squash, peeled and sliced into round disks (about 1 1/2 medium squash)

1 Tbsp. olive oil

2 Tbsp. Land O' Lakes Light Butter

2 Tbsp. all purpose flour

4 cloves garlic, minced

2 cups nonfat milk

Barilla No-Boil Lasagna Noodles (9 of them)

3/4 cup Parmesan cheese

Rosemary

Thyme

Oregano
Directions
Heat oven to 425 F. Slice butternut squash and toss with olive oil and 1 teaspoon each rosemary, thyme and oregano. Spread on a baking sheet and bake 15-20 minutes until soft.

While squash is baking, prepare sauce. Over medium heat, melt butter, cook garlic in the butter for one minute then add flour (it will become a thick paste). Reduce heat to low and add milk, then simmer until it thickens into a sauce.

Once squash and sauce are done, begin assembly in the bottom of an oven-safe glass dish by layering 1/2 cup sauce, top with 3 pasta noodles, a layer of the squash and 1/4 cup Parmesan cheese. Repeat so you have 3 full layers ending with squash and Parmesan on top.

Bake 30 minutes and enjoy!
(Visited 77 times, 1 visits today)