Bison Athlete of the Week: Morgan Mientus '14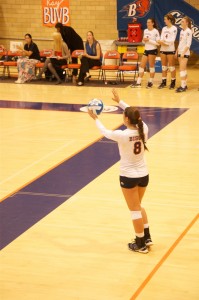 Alex Wagner
Sports Editor
Player Profile
Morgan Mientus '14
Hometown: Chicago, Ill.
Major: Anthropology and Economics
Season statistics:
88 sets played
319 digs, 3.63 digs per set
59 kills, 0.67 per set
16 assists
10 blocks
Morgan Mientus '14 played a vital role in the volleyball team's revival last weekend.  Previously winless in Patriot League play, Mientus led the Orange and Blue to five set wins over Lehigh and Lafayette. She tallied 20 kills and 28 digs over the course of the two matches.
"I felt empowered and confident, which is all thanks to the girls around me on the court who constantly have my back," Mientus said. "I have seen the girls on Lehigh and Lafayette for the past two years and once this year, so I definitely made some personal adjustments."
Mientus' 17 digs and 12 kills against Lafayette were particularly crucial, as they helped to lead the squad out of a two set deficit to get the win. Other Bison with double-doubles were Kristen Titley '14, Kat Tauscher '13 and Meghan Wentzel '16.
"We came out fighting against Lehigh and that was a huge win for us because they are a strong presence in the Patriot League. The Lafayette win was a slow start, but once we lost the first two sets we went in our locker room and really refocused," Mientus said.
The crucial league wins mark the first back-to-back victories for the Bison since Sept. 15.
"Overall, our team has just spent countless hours in the gym and finally it is all paying off and we are peaking at exactly the right moment to take over the Patriot League," Mientus said.
(Visited 86 times, 1 visits today)