Macbeth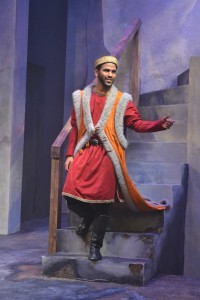 Christina Oddo
Arts & Life Editor 
This past weekend, a group of students performed one of Shakespeare's most renowned works. The University's Department of Theatre and Dance was proud to present "Macbeth" on Oct. 19-22 in Tustin Theatre. This production was directed by Anjalee Deshpande Hutchinson, assistant director of theatre and dance, aided by assistant directors Gwenn Gideon '15 and Bronwyn Barnwell '15.
The set of the production itself included a staircase leading to a door, a trap door in the floor and other openings and pathways. Realistic sound effects, as well as projected images and footage and fog effects, allowed for an even more three-dimensional performance. At multiple times during the production, actors performed right in front of the first row of the audience. Such a cozy venue allowed for great audience engagement, and an up-close, intense experience.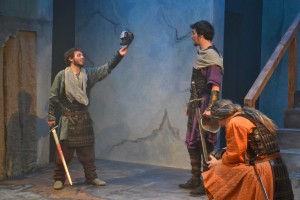 "One challenging aspect of this production was being open to all the historical interpretations of Lady Macbeth while also letting go of all preconceived notions and letting her spirit emerge organically," said Victoria Moyer '13, who played Lady Macbeth in the production. "Another challenging aspect for me was to open myself to my own darker nature in order to become Lady Macbeth. The idea of 'what's done cannot be undone' weighed really heavily on me each night … It was such a roller coaster experiencing Lady M's highest hopes and dreams transformed into her worst nightmares for the past weeks."
The actors grew as artists through the development of relationships with one another and with their characters.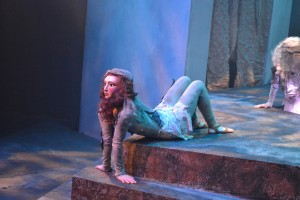 "We had an amazing cast–I think each one of us opened ourselves, to each other, as fellow creators and artists," Moyer said. "I had an eye-opening experience developing the relationship of the Macbeths with my phenomenal fellow actor, Elyas [Harris '13] , and I felt the complexity of our bond and eventual undoing grew immensely with each rehearsal."
At first, the students needed to tackle Shakespearean language in order to capture and portray the true essence of emotion on stage. Over time, it became less about memorization, and more about immersion.
"Having time over the summer to memorize lines and study the poetry and form of the text was necessary so that the physical exploration could happen right away this semester," Moyer said.
The actors grasped the language so fully that emotion was expressed with what seemed like ease.
"Everyone was so talented; it brought much more emotion to Shakespeare than I expected," Nicole Davis '15 said.
The actors became their characters with this great understanding of the language and its meaning.
"In Shakespeare's world, the characters are not afraid to speak, and they must articulate for their very survival," Moyer said. "Being immersed in Shakespeare's language has rekindled my passion for this kind of expression, yet I am dismayed sometimes to find our generation operating in a mode of stuttering, trailing off, indecisiveness, neglecting the power of the voice. I hope that the audiences this weekend were moved not only by the power of the story, but by the power of the language."
Above all, the cast not only became a closer group of artists and performers, but also a closer group of friends, creating and enforcing a group environment in the theatre.
"Macbeth was a group effort," Ethan B. Van Buskirk '13, who played Angus and Lord said. "Everyone was on top of it; lines down, cues up, extra hours from everyone. Anjalee was great too. She had a strong sense of what needed to happen in the show, but was exceptionally flexible and receptive to everyone's input. The best part of the show for me was easily the sense of community. Theatre doesn't exist in a vacuum, it needs people to thrive–including not only production, but the audience."
(Visited 274 times, 1 visits today)