Vertical Horizon keeps audience dancing and singing to new and old hits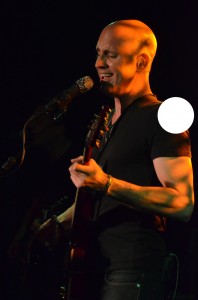 Kailyn Angelo
Contributing Writer
Whether you came looking for a laid-back good time on a chilly fall night, or you wanted to hear some of your favorite songs from the 90s and early 2000s, the Vertical Horizon concert at Uptown on Oct. 26 pleased many who attended.
"The concert was an extremely worthwhile alternative to those of us not fortunate enough to get Norah Jones tickets, and the smaller venue size of Uptown made the concert all the more memorable," Drew Yingling '15 said.
The band's early hits like "Everything You Want" and "Best I Ever Had" were the obvious highlights of the night. Audience members jumped and swayed along with the music and sang every word so loud that lead singer and guitarist Matt Scannell's voice became lost in the crowd at times.
"It was awesome!" Nicole Davis '15 said in immediate response as to what she thought of the performance.
The energy level occasionally faded when the band played songs from its most recent album "Burning the Days," released in 2009. The same happened when other lesser known songs were played.
Nearer the end, Scannell broke the news that the band would be releasing a new album within the first few months of 2013. They sampled a song that would be on the album and everyone seemed pleased with what they heard because the audience continued to dance.
(Visited 86 times, 1 visits today)