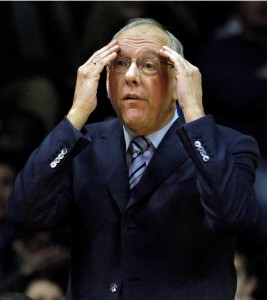 Julian Dorey
Writer
"No one wins. One side just loses more slowly."
Story continues below advertisement
The Big East Conference has reigned supreme over college basketball for years. The tradition, the urban settings, the old-school play and the over-integration of toughness has separated the league from the rest of the country.
In a way, that will all be gone come July 2013. Effectively, this upcoming season will be it for Big East basketball as we know it. Why?
Simply because the forces are shifting. The winds of the almighty dollar have broken the bonds of greatness that had no business being broken. This time next year, both Syracuse and Pittsburgh, two of the Big East's most important teams, will have taken their talents to the Atlantic Coast Conference (ACC). And, as if these two traditionally bruising basketball institutions leaving the league wasn't enough, Notre Dame, another important school in the Big East basketball landscape, will also be joining the ACC within three years. In a shocking decision that came about in September 2011, Pittsburgh and Syracuse bolted for what they consider to be greener pastures, leaving the Big East's brand name in question. Notre Dame followed suit shortly after.
For so many years we have heard coaches and athletic directors within the Big East rave about the special identity the teams within it share, that no other conference in college basketball can match. At the forefront of it all was Syracuse coach Jim Boeheim.
Yet after starting with all of the politically correct comments about why he's sad to leave the Big East after the news of Syracuse's departure was announced, Boeheim finished off by saying, "We're going to a very, very good basketball league, one that arguably has the best track record over the last 30 years.''
So much for the Big East being above the rest, Boeheim. Now the Big East sits in limbo.  Half of its schools privately have one foot out the door because the league has lost its stability. And the kicker to all of this? It all started over one or two schools joining the Big East.
"There was uncertainty with the Big East with TCU coming in and rumors of adding Kansas or Kansas State or whatever. They could be losing West Virginia or somebody else. We needed to be in a stable league, and we had to be in a stable situation," Boeheim said.
So let me get this straight, Jimmy boy. You're advocating leaving a conference because you are worried about its "stability" (your word, not mine) when the new league you are joining is doing exactly what you are advocating against in adding your school to its league?
Talk about a paradox.
The truth is, no one wins here. Syracuse, Pitt and Notre Dame all lose because they leave behind a tradition that their geographically Northeastern roots could truly claim to be a part of. They join a more southern league with a finesse style of basketball and a totally different identity. That's not to say the ACC isn't special in its own right. It is. It's just different from the Big East and, in my opinion, not quite as special.
In the meantime, the Big East has lost credibility. For years, the central hub of the league has been Madison Square Garden in New York City. For years, Syracuse has transformed the arena into a sea of orange during all of the big tournaments held there, including the ultra-competitive Big East Tournament. Pittsburgh and Notre Dame have also played in many special games within the confines of that holy basketball temple.
Now the league will expect the bottom feeders like DePaul, Providence and South Florida to step their games up to levels they have either never experienced or have for so long failed to reach, all while sticking to the same recruiting norms as Syracuse, Pittsburgh and Notre Dame. They will most certainly maintain a hold of their regular, successful recruiting areas. After all, it's not like Syracuse, Pittsburgh and Notre Dame are changing addresses.
Neither side is going to get a "W" in this one.
The question is: which one will look back in 30 years and say, "that move cost us our reputation forever"?
(Visited 56 times, 1 visits today)