Vegan Chocolate Chip Cookies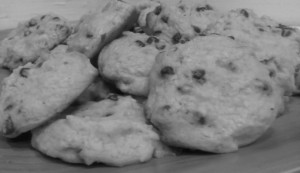 Katie Mancino
Writer
Vegan Chocolate Chip Cookies
Makes 24 cookies
54 calories, 1g fat, 8 carbs, 1g protein
I was making a recipe for mint chocolate chip cookies when I realized how easy it would be to make the recipe vegan–I just had to swap out the egg. These were the result and they are some of my favorite cookies of any kind, let alone vegan recipes! I like using mini chocolate chips so that the chocolate gets more spread out throughout the batter, Enjoy Life Brand Mini Chips is a great vegan brand for these. If you're not vegan but want to try this recipe, just use regular chocolate chips, it won't change the nutrition.
Ingredients
2 Tbsp creamy peanut butter

3/4 cup Truvia Baking Blend

1/4 cup Silk Light Soymilk

1.25 cups all purpose flour

1/4 tsp salt

1/2 tsp vanilla

1/4 tsp baking powder

1/4 cup vegan chocolate chips
Directions
Heat oven to 350 F.

Beat peanut butter, soymilk, vanilla and Truvia together.

Mix in remaining dry ingredients and chocolate chips.

Spray pan with a nonstick spray, divide batter into 24 cookies (use two trays;  each cookie is about two heaping tablespoons of batter)

Bake for 9-10 minutes.
(Visited 62 times, 1 visits today)