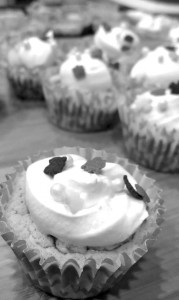 Katie Mancino
Writer
per cheesecake: 25 calories, 0g fat, 5 carbs, 1g protein
This is one of the biggest hits among my friends, and they have all agreed that if it wasn't for me making this dessert, they would have never realized cheesecake could be so healthy. You can easily use this cheesecake recipe to make other flavors by just swapping out the pumpkin. You could even make a few kinds by splitting the recipe into halves for an extra impressive Thanksgiving display!
I decorated these with cool whip frosting (found in the freezer section) and fun sprinkles. The frosting is 60 calories for two tablespoons, but I only used half a teaspoon on each, adding only five extra calories.
Story continues below advertisement
Makes 36 mini cheesecakes
Ingredients
5 Honey Maid Low Fat Cinnamon Graham Crackers
1 Tbsp Land O'Lakes Light Butter
2 fresh egg whites
1/4 tsp cream of tartar
2 Tbsp packed brown sugar
2 Tbsp sugar
1 tsp cinnamon
1/4 tsp nutmeg
1/4 tsp ginger
1/4 cup fat free sour cream
8 oz (1 pack) fat free cream cheese
1/2 cup canned pumpkin
Mini cupcake liners
Directions
Heat oven to 350 F.
Crush graham crackers until fine and melt butter.
Combine butter and crushed crackers. Press 1/2 teaspoon into the bottom of each mini cupcake liner.
Whip egg whites and cream of tartar until stiff peaks form (this is much easier with a mixer).
Beat together pumpkin, sour cream, cream cheese, sugars and spices until smooth.
Gently mix egg whites into pumpkin mixture.
Add 1/2 tablespoon of batter to each mini cupcake tin.
Bake 15-20 minutes until solid at the top but still jiggly.
Refrigerate for 1 hour to set.
Decorate and enjoy!
(Visited 77 times, 1 visits today)