Bucknell Dance Company Fall Concert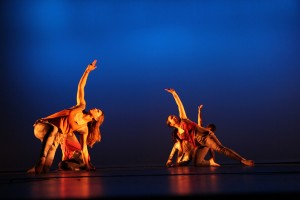 Christina Oddo
The Department of Theatre and Dance is proud to present the Bucknell Dance Company (BDC) Fall Concert. The show will take place tonight and tomorrow at 8 p.m. in the Harvey M. Powers Theatre.
The concert will feature many different styles of dance, including ballet, modern and jazz. Associate Professor of Dance Kelly Knox, Assistant Professor of Theatre and Dance Dustyn Martincich and Associate Professor of Dance Er-Dong Hu choreographed for the show. Students Chelsea Dieck '13, Christine Rossiello '13 and Courtney Lambert '13 also choreographed, as well as guest artist Michael Foley.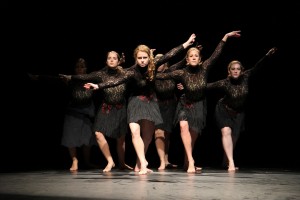 "[Foley's] kaleidoscopic partnering work constantly shifts and lifts bodies through space," Knox said. "We also welcome Professor Barry Long from the Music Department, who contributes jazz interludes to the steamy world of a femme fatale jazz work–and incidentally plays live trumpet in Friday's concert."
Long will play his own compositions live throughout Martincich's piece, "Guilty," in tonight's show. Four male students from the Theatre Department will also be performing in "Guilty." Rossiello has incorporated the reading of the poem "Birthday" by Andrea Gibson into her piece, "Within. With You."
"This concert is different from others in that it incorporates such a large spectrum of different types of dance, replete with intricate personalized costumes and powerful music, all of which I can assure will keep the audience intrigued throughout," BDC member Abbey Slobodin '15 said.
Costumes and lighting will prove to be present and powerful throughout the concert.
"This particular concert employs design as a choreographic element in several pieces, whether it's the stylistic trench coats and hazy backlights reminiscent of film noir in Dustyn Martincich's piece 'Guilty' … or the industrial light towers that dissect the space in Er-Dong Hu's 'Transitions.' This concert takes full advantage of the design talent in our department," Knox said.
Furthering the theme of design as a core element of the concert, Knox's piece, "Perspective Subordination," will encompass projected live images of the dancers partnering with themselves.
Choreographing for the show this semester has been a rewarding and challenging experience for Er-Dong Hu.
"It has been a joy working with nine dancers as well as the opportunity to combine my artistic vision with such unique lighting design," Hu said. "I have challenged myself to create 'something different' that has an 'East meets West' style that is also highly technical and demanding for the dancers."
The BDC has been working relentlessly over the past months to make the concert a success.
"The hardworking and dedicated company has been preparing for months: late rehearsals, adjusting to props, specific stylistic changes and executing movements not only with technique but with pure passion for the art of dance," Slobodin said.
Student dancers who delve into the world of choreography often encounter rewarding experiences. Lambert commented on the physicality of dance, the uniqueness of the body and the inherent differences between dancers.
"Every dancer moves differently and has his or her own style," Lambert said. "While this makes every dancer essentially unique, it makes choreographing that much harder. It is rather difficult to put the movement from my own body onto someone else's in precisely the same manner. However, this uniqueness is what makes this experience so rewarding. When my movement is portrayed by my dancers in the way that I envisioned it to be, I literally cannot help but smile with happiness and gratitude."
Lambert, who has appeared in numerous dance showcases, has experienced something new as a part of the group of BDC choreographers this semester.
"I am so honored to have been able to choreograph for BDC this semester. I will be honest, I was a little hesitant at first considering the packed semester I had ahead," Lambert said. "I realized, though, that I would never get this opportunity again, and as a senior this is probably my last time choreographing a piece at Bucknell. I was lucky to have such an amazing group of dancers in my piece who are all extremely talented and have worked so hard to get to this point. I look forward to seeing my vision in its entirety come to life this weekend."
"This fall has been a fantastic journey watching the seven diverse pieces of the concert come together," Knox said. "It's impossible to say what aspect is most rewarding, but I can tell you that after the first showing, when I saw all of the pieces as works in progress, I was struck by the immense creativity and dance talent we have in our program and I feel lucky to be a part of it all."
Tickets are $5 for students and $10 for general admission. Tickets can be purchased at the box office: (570) 577-1000 or online: www.bucknell.edu/boxoffice
(Visited 454 times, 1 visits today)