Beyond the Bison: Sports News Across the Nation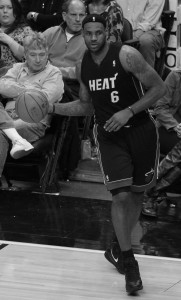 Julian Dorey
Writer
"That all there is to it?"
If you don't stop and take a look, you just might miss it. American basketball fans are spoiled, and I'm not sure they realize it. Right now, two players are playing the game on a level that begs the question as to whether or not they are, indeed, human.
LeBron James and Kevin Durant seem destined to battle each other for supremacy for years to come. After facing off against each other in the NBA Finals last year, the older James came away with his first title, while the young buck Durant realized just how far his greatness could take him, and how close he already was to living a championship dream.
Common sense would say that with the incredible athletes that exist across the NBA, James and Durant would continue to be the best players among many great ones. In fact, they have been even better. James has followed up his first championship and what was his third MVP campaign with perhaps his best season of all. With career stats of 27.6 PPG, 7.2 RPG and 6.9 APG, James's current averages of 27.0 PPG, 8.1 RPG and 6.9 APG certainly do not jump off the page at you. But the ways in which he has single-handedly taken over games and completely carried his team at times have put me and many others at a loss for words.
And from an efficiency stand point? Well, for someone who generally plays from the wing as a point-forward, James's 56.2 field goal percentage is absolutely insane. By comparison, Shaquille O'Neal had a 58.2 field goal percentage for his career, and most of his shots were within two feet of the basket.
James is doing it all and making it easy. His combination of incredible size, power and speed makes his post moves too strong for a small forward to defend and too fast for a center. He might only have one ring right now, but he'll get more as his legend continues to rise.
James's play makes it easy to ignore Durant's greatness in Oklahoma City. Despite the Thunder trading one of their "Big Three" in James Harden before the season, Durant and co-star Russell Westbrook haven't allowed the team to miss a beat.
Durant's height (6 feet, 9 inches) and length (7-foot-5 wingspan) qualify him to be a power forward in today's NBA. But, as skinny as he is and always has been, Durant has molded his game in a very different light. He's deceptively fast and, at age 24, he's already the purest scorer in the game. He can drain a 30-footer on demand or he can cross you over and fly through the lane. His defensive skills have improved drastically each season and his basketball IQ is amazing.
In a recent study done by grantland.com on Durant's season-by-season shot sheet, they found that Durant had improved his field goal percentages at every single spot on the court since entering the league. In some areas, like inside the paint and outside the arc, his percentages have increased by 10-20 percent. The kid is simply incredible.
James is going to keep adding to his mounting legacy. Durant is only going to keep getting better. Kobe Bryant is still averaging 27.4 PPG and yet somehow isn't even considered to be one of the two best current players in the game, which should tell you all you need to know about these two superstars.
First there was Wilt and Russell. Then there was Magic and Bird. Then there was Jordan.  Now, there's a man named James and slick kid named Durant. Buckle up and enjoy it.
(Visited 110 times, 1 visits today)