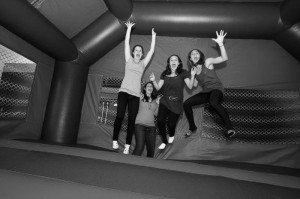 By Christina Oddo
Writer
For the amount of praise older students give to BU After Dark, the nighttime event had quite a reputation to live up to. Many students deem the carnival-themed event offering funnel cake, pizza and inflatables one of the greatest nights of the semester.
Story continues below advertisement
Sojka Pavilion radiated with energy Friday night, as students raced each other on the inflatable obstacle course and hopped onto the big comfy chair. Other students crafted their own buttons and decorated wooden frames. Carnival fare, including fries, cotton candy and popcorn nourished hungry students, while the music pumped them up for more BU After Dark activities.
"It was a great way to relax after coming back from fall break," Emily Shoemaker '14 said.
The overall sense of community, overwhelmingly present at BU After Dark, added to the enthusiastic atmosphere of the night. Students from many different social groups and organizations came together and played a game of volleyball or just hung out.
"I think what I liked most was seeing people I don't normally see out," Ethan Van Buskirk '13 said.
Activities and Campus Events (ACE) organized the event. BU After Dark will return next semester.
(Visited 101 times, 1 visits today)