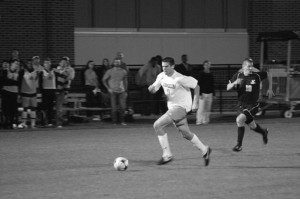 By Joe Ruby
Writer
The men's soccer team pushed its unbeaten streak to five games this week, earning a 3-3 draw with Colgate (7-4-4, 4-0-1 PL) and defeating NJIT (4-10-0) 2-0. Brendan Burgdorf '13 and Mayowa Alli '14 each scored two goals for the Bison. The matches were the Bison's final home contests for the year.
Story continues below advertisement
Against Patriot League leader Colgate, the Bison trailed 3-1 late but staged a dramatic rally in the final five minutes thanks to Alli and Tommy McCabe '11.

Soon after the Raiders scored their final goal, the Bison earned a corner kick off a shot from Burgdorf. McCabe sent the kick into the box, and Alli headed the ball past Raiders keeper Chris Miller for the first goal of his collegiate career. Fifty seconds later, Alli struck again, heading in McCabe's free kick at the 85:54 mark for his second goal of the match and the third goal overall in 1:51 to complete the Bison's frantic comeback. Colgate managed two shots on goal in overtime, but Bison keeper Marc Hartmann '12 kept the ball out of the net to preserve the draw.
The had Raiders struck first, just 5:28 into the match, on a long shot by Steven Miller. Fifteen minutes later, Josh Plump '13 fired a shot that Chris Miller saved, but Burgdorf was in the right spot to head in the rebound for his fifth goal of the year. The Raiders added two more goals in the second half.

Overall, the Bison put seven of their 19 shots on goal, while the Raiders had 20 shots, nine of which were on goal.
Against the New Jersey Institute of Technology, Burgdorf scored his Patriot League-leading sixth goal of the season 28:13 into the match, assisted by McCabe and Travis Rand '11. Just 2:30 later, Vinny Cinotti '13 netted his first career goal, finishing an Alli throw-in and extending the margin to 2-0. Bison keeper Tommy Caso '12 made seven saves to earn the shutout.
The Bison (7-6-2, 2-1-2) are 3-0-2 in their last five matches and are competing for a spot in the Patriot League Tournament. The Bison are tied with Navy for the  fourth and final berth, behind Colgate, Lehigh and American. They are safely ahead of Lafayette, Holy Cross and Army. The team will hope to secure the final spot when it travels to Lafayette (6-6-3, 1-3-1) on Saturday for a 3 p.m. game and Binghamton (4-5-4) for a 7 p.m. contest on Wednesday.
(Visited 49 times, 1 visits today)