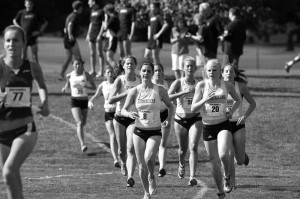 By Cooper Sutton
Sports Editor
Charles Murphy '11 and Allison Donaghy '12 earned the title of Patriot League Runner of the Week, but the men's and women's cross country teams, resting their top runners in preparation for the Patriot League Championships, otherwise struggled in the Lock Haven River Run on Saturday.

Story continues below advertisement
Murphy placed 10th overall with a time of 25:31, less than 30 seconds behind the first-place finisher from Lock Haven.  Jake Schroeder '11 came in eighteenth place with a time of 26:12.
Donaghy finished ninth in 22:40. "I think what allowed me to have my own personal success this weekend was really sticking to my coach's race plan and not allowing myself to get pulled out too fast.  I ended up feeling pretty strong towards the middle of the race because I didn't use all my energy in the first mile of the race," Donaghy said.
Tyler Erhard '13 and Stephanie Bryan '14 both received top league honors for rookie runners. Erhard came in 32nd in his race with a time of 26:33 while Bryan came in 18th with a 23:06.
The men's team placed seven runners in the top 30 in addition to Murphy's top 10 finish. The Bison came in third behind Lock Haven and Indiana of Pennsylvania, scoring 77 points. Lock Haven blew away the competition with 16 points. "I thought that overall we did really well. The race was small and low-key which made it easy to stay relaxed, find our teammates and settle in to our own pace," Murphy said.
The women also had seven top-30 finishers, but finished fifth of five teams with 80 points. First-place finisher Indiana of Pennsylvaniaa had 53.
The Bison do not seem concerned with this low outcome because many of the runners stayed on the sideline for the race. "Even though our top eight women did not compete this weekend, I think everyone raced to the best of their ability …  and did not let this factor affect them," Donaghy said. Considering the lack of top runners, the team certainly held its own this past weekend.
The Bison will be in action again this Saturday at 10 a.m. for the Patriot League Championships in Easton, Pa.
(Visited 78 times, 1 visits today)