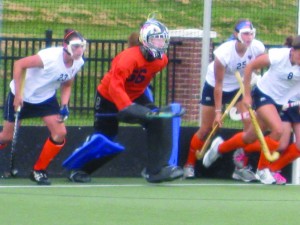 By Joyce Novacek
Writer
The Bison field hockey team faced a weekend of tough competition on the road, losing to American 6-0 on Saturday and Rutgers 3-0 on Sunday.
Story continues below advertisement
The American Eagles played great defense all day. The Bison only had two shots the entire game, coming from Kelly Bruvik '11 in the first half and Morgan Kauffman '11 in the second.
The Orange and Blue defense only allowed one goal during the first 35 minutes of play, but the Eagles came out firing in the second half, scoring five goals off 10 shots. Goalkeeper Sarah Zargarpour '12 made six saves but took the loss in net for the Bison.
The Bison hope to learn from this experience.
"We had an amazing opportunity to play the number 11 team in the country (Penn State) [and] the number seven team (American) [this season]. This weekend was our last chance to practice playing two tough games back to back to prepare for the format of the Patriot League tournament," Bruvik said. "In both the Penn State and American game, we proved to ourselves that we are capable of competing against the top teams in the country but that in order to ultimately win, we must keep a high level of intensity and composure for an entire 70 minutes."
At Rutgers on Sunday, the Bison defense started off strong, holding the Scarlet Knights to a scoreless first half. Rutgers did not have a shot until the second half, but managed to capitalize on three of their six shots. The Bison outshot the Scarlet Knights 10-6 and had five penalty corners to Rutgers' three, but it was not enough for them to come away victorious.
"In the Rutgers game, we focused on improving some things tactically from the American game and for the most part we were successful. Specifically, we focused on winning the communication battle. We gave ourselves several opportunities to score but had trouble finishing," Bruvik said.
"We held the number seven team in the country (American) to one goal for 50 minutes and outpaced Rutgers for 60 minutes, but we had mental lapses at the end of both games. Although we are struggling to play a full 70 minutes of great hockey, we certainly have the potential to be very successful. We are looking forward to a great week of practice before our last home game against Colgate this weekend," Christine Weiss '11 said.
The Bison return home to Graham Field to play a conference game against Colgate on Saturday at 12 p.m.
(Visited 55 times, 1 visits today)