Beyond the Bison: Sports News Across the Nation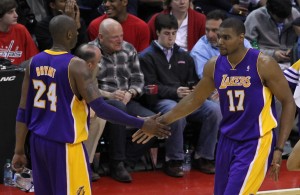 Julian Dorey
Writer
"Misgivings."
What has happened to the Philadelphia 76ers this year? It seems like the only news coming out of South Philadelphia is what hairstyle Andrew Bynum is sporting on a given day. What's even more sad is that's the only noteworthy effect the 25-year-old "All-Star" has had on the Sixers.
When the Sixers traded their longtime swingman Andre Iguodala, their promising European big man Nikola Vucevic and their first-round draft pick Moe Harkless for a proven "superstar," something they hadn't had since trading Allen Iverson in 2006, they most certainly had the word "contender" on their mind. Instead, they've dealt with bad hairdos, a media nightmare, a lost season and brittle cartilage in both of Bynum's knees.
Immediately after acquiring Bynum in August, the big man (who had suffered from some chronic knee injuries in the past) mentioned that he would travel to Germany to receive the same anti-invasive knee procedure that Kobe Bryant, Tiger Woods and Alex Rodriguez received. He was coming off a season in which he had not missed any significant time due to injury and in which he posted the best numbers of his career. Sixers fans didn't have any reason to worry … until the first day of training camp.
Bynum showed up and said that he was "shutting down" any physical activity for three weeks, and he went on to say that he would be ready for the start of the season. Three weeks later, he changed his mind and said he wouldn't be ready for the opening tip. Two weeks after that, he changed his status to "indefinite." And now, all the way into March, after more episodes of prolonging his recovery and after assuring fans all year that he would indeed play this year, he has rescinded that sentiment and has said he may get surgery.
All of this after the Sixers went through hell and high water to get him, and with his looming free agency status coming this summer, the Sixers have some decisions to make. Well, I say there isn't a decision at all. If a 25-year-old can't get through a 30-minute shootaround without his knees flaring up, his future doesn't look too promising. Moreover, the guy has taken the city of Philadelphia for a disastrous roller coaster ride, all while not seeming to care or understand the gravity of the situation.
Does he really think that the Sixers are just going to throw a max-contract at him in July? Does he understand what his absence has done not just to their team (currently one of the worst in the NBA), but to the quality of their brand? The Sixers already were the proverbial red-headed stepchild of Philadelphia sports even before Iverson left town. Bynum has only added to the lore of the team's continuous embarrassments.
The team spent the offseason building a roster specifically around Bynum, an offense that runs through the paint and spreads the floor for athletic jump shooters. Without Bynum, the shooters are useless, the paint game is non-existent and players have been forced to play out of position. If Bynum acted at all like he cared or showed some sense of urgency this year, maybe I'd consider rolling the dice on him this offseason. Clearly his priorities are elsewhere.
As an old movie once said: "Adios, amigo." But, for authentic purposes, let's drop the "amigo" part.
(Visited 76 times, 1 visits today)