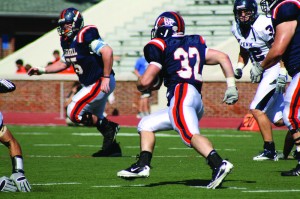 By Greg Stevenson
Senior Writer
Coming off its first victory of the 2010 season, the football team failed to repeat against the Lehigh Mountain Hawks last Saturday, falling 32-10 in Bethlehem, Pa. The Orange and Blue fell to 1-1 in the Patriot League and 1-6 overall with the loss.
Story continues below advertisement
"We played well at times but without consistency," head coach Joe Susan said. "The most important thing we can do is stay on schedule in terms of down and distance. We also turned the ball over three times. Our offensive line continues to improve."
The Bison fell behind early after Lehigh scored a touchdown on its opening drive. The Mountain Hawks moved the ball 67 yards down the field, capping off the drive with a 14-yard touchdown pass from quarterback Chris Lum to wide-receiver Ryan Spadola, their first of three touchdown connections of the game. The Orange and Blue blocked the extra point, keeping the Lehigh lead at 6-0.
"We had some match-up issues in our secondary that they were able to exploit," Susan said of his defense. "When you try to pressure it challenges you in coverage. We had to vary with zone and man concepts. They did a good job of passing the ball and this helped them be more effective in the run game. We missed some assignments in our secondary and will work to fix that."
On their first two series the Bison combined for just 39 yards of offense. Their second drive ended after four plays as the Orange and Blue turned the ball over to Lehigh on a fumble. The Mountain Hawks responded with their second scoring drive of the contest. Running back Zach Barket ran in from nine yards out to give Lehigh a 13-0 advantage early in the second quarter.
Trailing by 13, the Orange and Blue responded with a touchdown. Starting in Lehigh territory, the Bison needed just five plays to put the ball in the endzone. From three yards out, Travis Friend '14 scored on a rushing touchdown to cut the Mountain Hawks lead to six.
Lehigh scored the next 10 points to end the first half and outscored the Orange and Blue 9-3 in the second half to give the Mountain Hawks a 22-point victory.
Quarterback Brandon Wesley '14 continued his solid rookie season. Although he threw two interceptions, Wesley completed 18 of 28 passes for 155 yards to help the Bison to two scoring drives.
"Brandon has been a very important plus as we build this program," Susan said. "He has done a very good job as a quarterback, managing the offense, making the right decisions at the line of scrimmage and being pretty smart with the ball."
Trying to get back over .500 in the Patriot League, the Bison return home for their Homecoming game. The Orange and Blue face Lafayette at 1 p.m. this Saturday at Christy Mathewson-Memorial Stadium.

(Visited 49 times, 1 visits today)