Beyond the Bison: Sports News Across the Nation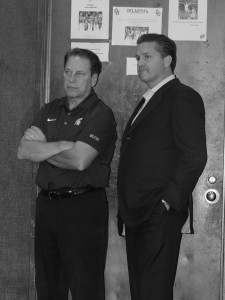 Julian Dorey
Writer
"More with Less"
I haven't called him "Tom" in years. To me, Tom Izzo is simply the "Wiz." In his 18 years manning the ship at Michigan State's basketball program, the credentials speak for themselves: 16 straight NCAA tournament appearances, seven regular season Big Ten Championships, six Final Four appearances, two national title game appearances and one National Championship in 2000. Izzo has made MSU synonymous with March folklore and he has continually turned over roster after roster successfully. What's even more impressive is that despite all of that success over the years, he has only ever had one player become an NBA All-Star (Zach Randolph) which makes his accomplishments all the more impressive given the lack of superstar power his teams have had.
Instead, he has relied on coaching up smart, team-oriented leaders like Mateen Cleaves, Drew Neitzel, Kalin Lucas and Draymond Green. Seemingly every season, Michigan State receives love from the AP voters early on, sometimes without much more of a reason than "Izzo has to have something up his sleeve." While they have spent many seasons fading from their preseason rankings, Izzo has repeatedly gotten his team clicking on all cylinders by February. By March, they're deadly.
This year Izzo is at it again. After receiving a number three seed from the NCAA Tournament Committee, the Spartans opened up their tournament with a 65-54 win over Valparaiso, and then followed that up with a high-speed beat down of an athletic Memphis team 70-48. With a matchup against Mike Krzyzewski and second-seeded Duke on the horizon, Izzo seems poised for another "joke's on everyone else" run through the bracket. The Spartans look like one of the most physical teams in the country right now, and they do not turn the ball over.
At this point, a fair question is certainly at hand: if Izzo can make it seven final four appearances and, dare I say, two national titles, will it be fair to call him one of the greatest of all time? Izzo is 439-177 in his 18 seasons as a collegiate head coach (all at MSU), giving him a .713 win percentage. Part of the reason his name is sometimes left out of the "legends" conversation is because guys like Krzyzewski, Syracuse's Jim Boeheim and North Carolina's Roy Williams have had more seasons of head coaching, and thus have higher win totals. 
But history remembers greatness. Izzo has already matched Boeheim with one national title, and he has lapped him with six Final Four appearances to Boeheim's three. With one more national title, Izzo will match Roy Williams in national titles and Final Four appearances, albeit in seven less seasons. Measurables like this surely will not be lost in the annals of college basketball history.
Sparty looks primed for another run at college basketball's crown, and I don't mind putting my money on Izzo.
(Visited 61 times, 1 visits today)