Ke$ha and B.o.B draw enthusiastic crowd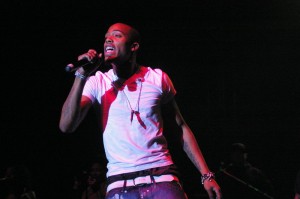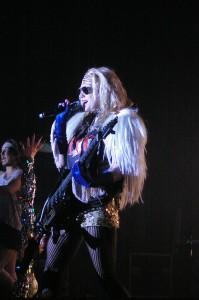 By Carolyn Williams
Writer
Ke$ha and B.o.B. fans turned out in droves for the concert last Friday at the Gerhard Fieldhouse. It seemed like most of the student body was in attendance, as were a number of local high school students, families from the greater Lewisburg community and many other local fans.
The excitement was palpable at the field house, where the line of excited concert-goers wrapped around Sojka Pavilion. Many emulated Ke$ha's distinctive style, proudly sporting "Party Like It's 1846" neon pink or yellow ball caps. The cold night air was only a mild annoyance in light of the anticipation to see the show.
When Ke$ha finally appeared on stage, the crowd went wild. She opened the concert with "Blah, Blah, Blah" to the screams of happy fans. The excitement continued with some of her other popular hits, mostly off her electro-pop dance album "Animal." The audience danced to hits like "Stephen," "Dinosaur," "Animal," "Take it off" and "Party at a Rich Dude's House" before ending her performance with her best-known song "Tik Tok." Ke$ha's performance undeniably carried her signature of sloppy craziness. Particularly notable were her costume changes, including her panda headdress. Her theatricality, though immediately entertaining, was not enough to cover her weak vocals. Often called a lesser emulator of Lady Gaga, many students felt her overall live performance was lackluster. "Ke$ha was mediocre, but B.O.B. was off the hook," Spenser Frieri '14 said.
Many audience members left the concert during the lengthy intermission between Ke$ha and B.o.B.'s performances, but the remainder of the crowd was as enthusiastic as ever to see B.o.B. finish his American tour for his album "The Adventures of Bobby Ray." The wait was well worth the while, as evidenced by B.o.B.'s significantly more put-together and polished act. The singer's alternative hip-hop songs were a huge hit with the crowd, as people screamed along to each song. "Bet I,""Magic" and "Don't Let Me Fall" were particularly well-followed. He also sang renditions of songs by MGMT and Vampire Weekend. The fans reacted especially enthuastically to the hits "Nothin' on You" and "Airplanes." His singing was also noticeably better than Ke$ha's, and the crowd was captivated from start to finish.
Overall impressions of this year's fall concert were generally favorable. Caroline Confort '14 gave it her full approval. "The concert was insane and I had the time of my life," she said. With such big names as Ke$ha and B.o.B., students are beginning to wonder what surprises they can anticipate for next semester's spring concert.
(Visited 93 times, 1 visits today)