Football loses seventh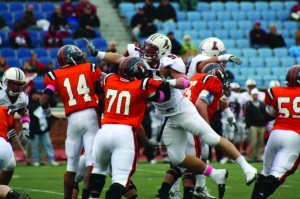 By Greg Stevenson
Senior Writer
The football team fell 33-22 to Lafayette at home on Saturday thanks to four long scoring plays put together by the Leopards. The two teams had entered the game with identical 1-6 records, but the Leopards gave the Bison their second defeat in conference play.
"When a team strikes fast, there are varied reasons," Head Coach Joe Susan said about Lafayette's long plays. "The main result is the immediate score. Momentum changes, and there are snaps they don't have to take."
It did not take long for the Leopards to get on the board. On their second play from scrimmage, Lafayette tailback Patrick Mputu took a swing pass out of the backfield 75 yards for the opening touchdown just 50 seconds into the contest.
With its offense getting the job done early, the Lafayette defense countered with its own pivotal scoring play. Starting their second offensive series deep in their own territory thanks to an impressive punt, the Bison went backwards 11 yards in two plays for a safety, leading to a 9-0 Lafayette advantage.
Trailing by two possessions, the Bison defense forced a failed fourth-down try by Lafayette. The Bison proceeded to drive 69 yards in 12 plays, only to have their drive end on a costly turnover.
In a span of four plays, possession changed three times, all on fumbles. Lafayette ended up with the ball at its own 17-yard line. Nine plays later, the Leopards handed the ball back to the Bison via another fumble, setting up the first touchdown drive for the Orange and Blue that cut the lead to two at 9-7.
Over the next 18 minutes of play, Lafayette scored three unanswered touchdowns, all on plays longer than 30 yards, bringing the Leopard lead to 30-7. Tyler Smith '13 then scored two touchdowns for the Orange and Blue, one through the air on a trick play and another on the ground, but the scores came too late as the Bison fell 33-22.
Although he has lost seven of the first eight games of the season, Susan recognizes the importance of these games in building his squad for years to come.
"Our younger players continue to develop," Susan said. "Brandon Wesley '14 is learning by experience. He is a very dedicated player and will work not to repeat mistakes. Travis Friend '14 has continued to improve physically. Defensively Sean Rafferty '12 is consistent. Tyler Anderson '11 and Josh Eden '12 continue to play well."
For the third straight weekend, the Bison will try for their second Patriot League win of the season. The Orange and Blue host the Fordham Rams at Christy Mathewson-Memorial Stadium Saturday at 1 p.m.
"This team has responded to the loss by working very hard," Susan said. "Now it is time to get rid of the play hard and add to it play hard and win."
(Visited 51 times, 1 visits today)