Colgate upends Bison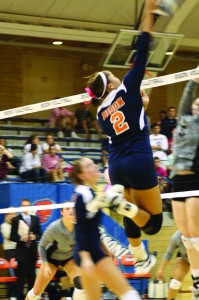 By Mike Wolf
Contributing Writer
The women's volleyball team fell in the Patriot League rankings this past Saturday with a 3-1 loss to Colgate. This match marked the end of an extended road trip on which the team finished 2-3.
After a positive start—the Orange and Blue won the first set 25-17—the team dropped three straight sets, 15-25, 17-25, 18-25. It was the first time since September that the Bison have lost consecutive matches.
Heidi Kamp '11 led the team with 12 kills and six blocks. Rachel Rodriguez '11 also contributed 19 assists.

In the first set, Ragin Jackson '13 had multiple kills and Katie Baumgarten '12 an ace, a kill and two blocks. The Orange and Blue went up six points early and held this lead until late in the set when a service run by Rodriguez allowed the team to finish the set with an eight point victory. contributed with
Though the Bison won the first set decisively, the team was unable to generate any offense in following sets.
"We came out in the first game with the will to win … unfortunately the first game's victory was followed by an overall relaxation," Kamp said.
In the final three sets Colgate's Logan Kaela and Lindsay Young combined for 32 kills. Colgate as a team recorded 55 kills throughout the match.
Though the Bison managed to keep each of the final three sets close, they could not get past their own errors as the match went on. The Bison managed a kill percentage of only .033 through the last three games. A good kill percentage generally averages at about .300.
The Orange and Blue have four matches left to hold their position in the Patriot League and make the playoffs. The women have home matches against Lehigh this Friday at 7 p.m. and Lafayette this Saturday at 5 p.m., both in Davis Gym.
(Visited 53 times, 1 visits today)