Bison Basketball Preview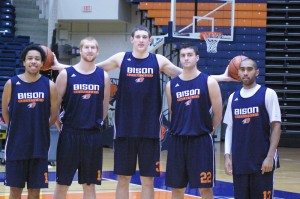 By Greg Stevenson
Senior Writer

After last year's shocking loss to rival Holy Cross in the Patriot League Tournament opening round, the 2010-11 season could not come fast enough for the Bison men's basketball team. The quick and surprisingly early end came just days after the Bison secured the number two seed in their conference and earned the right to play their first home playoff game since 2007.
With every new season come new goals, and this season is no different. Even though last season has come and gone, its bitter end still lingers for the Orange and Blue.
"The one aspect of last season that I will remember going into this season is the emotions I was feeling when Holy Cross defeated us in the Patriot League Tournament last year," said Bryan Cohen '12, the projected starting small forward this season. "It allows us as a team to realize that we have the ability to be there again this year, but also that we must stay focused and motivated to attack every day of practice with intensity."
That focus and motivation to attack will be on display right away for the Bison as they face two major conference opponents in their first weekend of the season. The Orange and Blue travel today to Villanova, the sixth-ranked team in the nation, and on Sunday to Marquette, another Big East power. But even though the Bison take on a few of college basketball's blue-bloods early in the season, the early games are not what the Orange and Blue are focusing on.
"There is no single game that is important this year," starting point guard Darryl Shazier '11 said. "We will build off of each game and look to get progressively better as the year goes on."
"As a team, we're very passionate about not looking ahead," Enoch Andoh '12 said. "We strive to take one game at a time, one possession at a time. Nonetheless, our ultimate goal is the Patriot League Championship and a March Madness berth. Each game until then is an equally important test on our long journey to success."
Picked a close second behind American in the Patriot League preseason polls, the Bison return all five starters from a team that won nine conference games in 2010 and lose just one player who tallied significant minutes last season. Despite the appearance of having the same team, the 2011 roster is much different than last year's team.
"The main difference between this year's team and last is our depth," starting shooting guard Bryson Johnson '13 said. "Everyone on our team will be able to contribute this year and that helps when guys are having an off night."
"I think the biggest difference this year is experience," said Mike Muscala '13, this year's starting center. "We had a young team last year and are still relatively young, but a lot of guys, including myself, were able to get that year of experience and go through the process. I think we then did a good job of using that experience in the off season to work on weaknesses that we discovered throughout our season."
As it is every season, the goal for the Orange and Blue this year is to take home the Patriot League Championship trophy and advance to where only four other Bison men's basketball squads have been before—the NCAA tournament. But with a tough conference and non-conference schedule, winning the title will not be easy this year.
"We plan to hoist up the Patriot League Championship trophy at the end of the year, but talk means next to nothing," G.W. Boon '11 said. "There is an old proverb that says, 'All hard work brings a profit, but mere talk leads only to poverty.' We have worked hard, so I know we will be have a great season. Now we just have to prove it between the lines once the ball gets tipped up."
With the Villanova and Marquette games this weekend, the Bison will have to waste no time showing off all their hard work in the offseason and proving that they belong in the conversation for the Patriot League Championship.
(Visited 108 times, 1 visits today)