Volleyball splits league games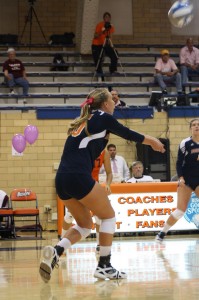 By Mike Wolf
Contributing Writer

The volleyball team ended a three-game extended losing streak with a great game against a tough Lafayette team this past weekend. The host Bison swept the Leopards on Saturday after slipping in five games to Lehigh the previous day.
After a tough loss on Friday, the Bison recovered well as they dominated Lafayette on Saturday night. The Orange and Blue won the match in three quick sets 25-22, 25-19, 25-14.
The team had needed a change of strategy after the Lehigh loss, especially with playoffs coming next weekend.
"It was a wake-up call to how hard we're going to have to work this upcoming weekend in order to make it to the playoffs," McAhren said.
Following a close first game where a late run let the Bison pull ahead, the team took total control of the match and never looked back. The win put the Bison back in the running for the playoffs, as they now hold the final playoff spot.
Friday's game was close until the very end as the Bison went to five sets in the match. The Bison alternated winning and losing sets until the match was split at two games apiece. In the fifth set a quick start by Lehigh left the Orange and Blue unable to get a streak together. The match was lost 17-25, 25-17, 20-25, 25-18, 15-8.
Kyleigh McAhren '12 and Heidi Kamp '11 led the team with 13 and 10 kills, respectively. The Bison also made a positive offensive step with 13 aces, which was a season high, including five by Kristen Titley '14.
Though the Bison put together a very solid four sets at the beginning of the match, they fell quickly behind in the fifth. Lehigh's Paige Kruse started the set with multiple aces and the Orange and Blue found themselves down 6-0, a deficit from which they could not recover.
The Bison have two huge matches this weekend that will decide whether they make the playoffs. Friday's game against Holy Cross is at 7 p.m. and is also Senior Night. Saturday's game is at 5 p.m. against Army and is themed "Rock the House," where masses of fans come to make the court as loud as possible.
(Visited 48 times, 1 visits today)